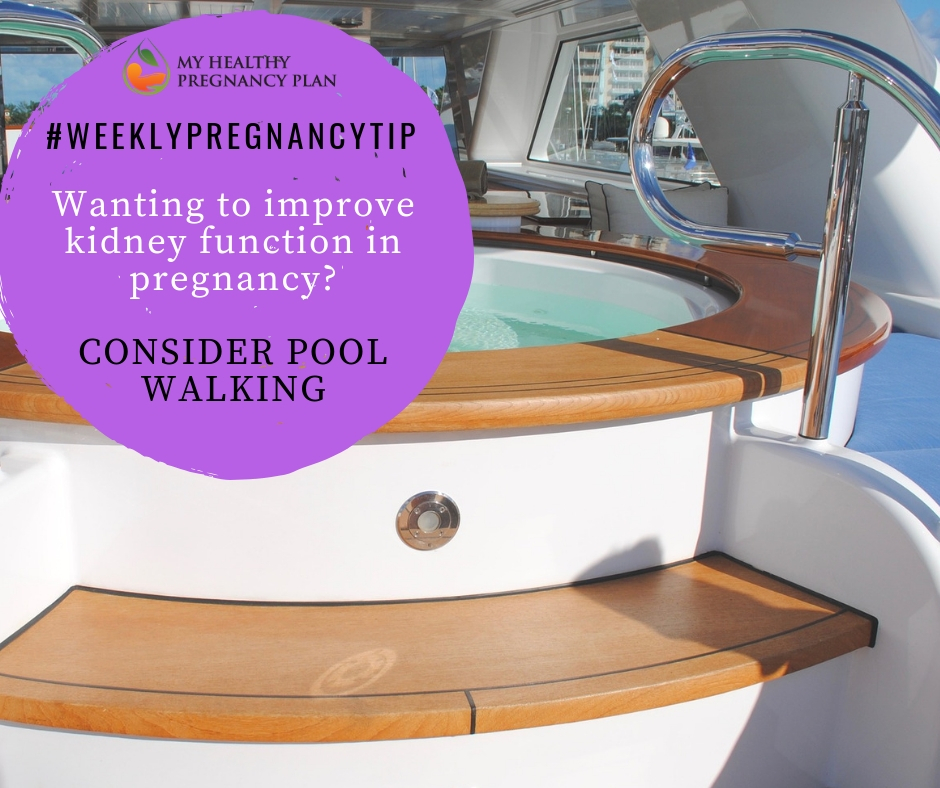 Exercising in the pool has long been a favourite of pregnant women, as the buoyancy of the water takes the weight of tired hips and knees, resulting in a rare and relieving feeling of weightlessness. In addition to the cardiovascular benefits of swimming and water exercises in pregnancy, a new study has highlighted a benefit of pool walking – improved kidney function.
The Japanese study compared kidney function of pregnant women who either pool walked for 1 hour, or walked on the street for an hour. The pool walking resulted in suppression of renin-angiotensin-aldosterone levels, along with improved total urine volume and creatinine clearance. 
This research is potentially relevant in cases of increased blood pressure in pregnancy – which can result in gestational hypertension and pre-eclampsia.
Further research is needed for clear recommendations as to frequency of pool walking per week to maintain the benefits to kidney function and associated blood pressure (which is regulated by renin-angiotensin-aldosterone levels) – but for now it doesn't hurt for pregnant mothers to spend more time at the pool!
I hope you have found this helpful, and do let me know if you have any questions!
If you are hungry for more evidence-based information in your pregnancy, sign up for my free webinar: 7 Pregnancy Myths Debunked – and get the information you need to have a healthy pregnancy and a thriving baby.
And if you are a care-provider looking for evidence-based resources for your pregnant patients, please get in touch with us at support@myhealthypregnancyplan.com.
In health,
Dr Jocelyn Land-Murphy, ND
Terra Life
Disclaimer: The information and content provided is for general educational and informational purposes only and is not professional medical advice, nor is it intended to be a substitute therefore. Please consult the Disclaimer and Terms of Use for full details.
References:
Yoshihara, T. et al. (2019).Pool walking may temporarily improve renal function by suppressing renin-angiotensin-aldosterone system in pregnant women. BioRxiv.