WHO I AM
I am a Whitehorse-based Naturopathic Doctor and mom-of-two with an exclusive focus on reproductive health. My passion for helping women and couples have healthy pregnancies and thriving babies grew out of my own experiences as a mom, and led me to pursue the rigorous training to become a licensed Naturopathic Physician.
HOW I GOT HERE
When I was first pregnant back in 2007, I was overwhelmed with being responsible for the health of my baby in utero. There was so much information out there, and I didn't know what or whom to trust. I was reading conflicting advice online, and my care provider didn't have the training to explain both conventional and alternative options like herbal medicine or acupuncture. I spent a lot of time trying to figure it all out and became quite frustrated. In the end, when I ran into challenges with my pregnancy and later my birth, I felt like maybe I had missed a chance to make informed choices that could have led to a healthier pregnancy and a better start for my baby.
My experiences were the turning point I needed to leave a successful career in the environmental sustainability sector and focus on my long-standing interest in health and the human body. I spent the next 9 years learning everything I could about fertility, healthy pregnancies and integrative medicine. After completing my BSc and four years of pre-med studies, and having a second (great!) pregnancy and birth, I continued on to complete another four years of graduate studies to become a Naturopathic Doctor. I was attracted to this type of medicine, not only for its focus on addressing root causes and treating the whole person, but also because I felt the scope of practice (which includes herbal medicine, nutrition, acupuncture, spinal manipulations, and prescription medications) offered the best toolkit to meet my patients' needs. Throughout naturopathic medical school, I also worked as a volunteer doula, attending the births of low-income women in my community and supporting them through their pregnancies and postpartum periods. As a dedicated life-long learner, I have continued to refine my expertise by taking advanced Continuing Education courses in pregnancy, postpartum, and pediatric care, as well as a two-year Herbal Medicine for Women program. I am incredibly passionate about women's health care, and whenever there is an opportunity to gain more evidence-based knowledge about how to best care for moms and babies, I am there!
HOW IT ALL COMES TOGETHER
My experiences as a mom motivate me to make sure that every woman gets the best care possible, and has the information they need to make informed choices. I have personally experienced the highs and lows of pregnancy and birth, and I know what it's like to be in your shoes
My training in naturopathic medicine allows me to understand and treat complex fertility and pregnancy challenges, and to support your body in staying well throughout pregnancy and after. As a primary care provider, I am able to work collaboratively with your midwife/OB/GP/fertility clinic whenever it is in your best interests.
As a Naturopathic Doctor with full prescribing rights, I am able to offer the best of both worlds – treating naturally with nutrition, herbs and acupuncture, or writing prescriptions when needed. My advanced obstetric training, beyond the ND designation, gives me the expertise to safely treat women from pre-conception to post-partum/lactation.
My experience as a doula grounds me with an awe of the human body, and what we as women are capable of doing – every birth has taken my breath away…
WHY I PROVIDE BOTH ON-LINE AND IN-CLINIC SERVICES
In my clinical practice, I have found that many of my patients have similar experiences of feeling overwhelmed and wanting to have the information and guidance they need to be proactive and make informed choices for themselves and their babies. They don't have the time to become a fertility or pregnancy expert themselves, and are looking for someone to help them navigate the process and talk them through their options – both conventional and integrative. This shared experience amongst fertility and pregnant patients – wanting quality, evidence-based information – led me to take my training and expertise online. I created My Healthy Pregnancy Plan to allow women worldwide to access the information they need to have the healthiest conceptions and pregnancies possible.
Whether we meet at my clinic, or online, I am honored to work with you. It is a privilege to be a part of so many women's journeys into motherhood.
CREDENTIALS
Education:
BSc, Global Resource Systems, UBC (4 years)

Undergraduate Scholar Program; Academic All-Canadian; Terry Writing Award, Canadian Mathematics Award
Doctor of Naturopathic Medicine, Boucher Institute of Naturopathic Medicine (4 years)

Patricia Wolfe Entrance Scholarship; Northwest Naturopathic Physicians Conference Student Speech Scholarship
Continuing Education:

Prescribing Upgrade (conferring full prescribing rights)
Herbal Medicine for Women (2-year course with Dr Aviva Romm MD, estimated completion July 2017)
Naturopathic Doula Course (with Dr. Kirsten Almon ND & Dr. Shannon Kaupp ND)
Botanical Medicine and Pediatrics (with Dr Mary Bove, ND RM)
Botanical Medicine and Pregnancy, Birth and Postpartum (with Dr Mary Bove, ND RM)
Well-Baby Well-Child (with Dr. Cathy Cathy Carlson-Rink ND RM & Dr. Liane Erickson ND)
Advanced Obstetrics (with Dr. Cathy Carlson-Rink ND RM, Dr. Molly Niedermeyer ND & Dr. Loren Ricco ND)
Advanced Pediatric Therapeutics (with Dr Tamara Cullen, ND)
Homeopathy and Pediatrics (with Dr Lianne South, ND)
Spinal Manipulations in Pregnancy (with Dr Nikita Vizniak, DC)
Naturopathic Cardiac Life Support (with Ohm Medical / Heart and Stroke Foundation)
IV Nutritional Therapy for Physicians (with International IV Nutritional Therapy for Professionals)
Professional associations:
President, Yukon Association of Naturopathic Doctors (YAND)
College of Naturopathic Physicians of British Columbia (CNPBC): member in good standing
Canadian Association of Naturopathic Doctors (CAND): member in good standing
my life outside of being a doctor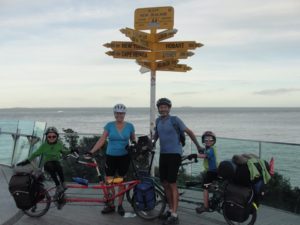 When I am not treating patients, I can usually be found adventuring outside with my two sons and husband Ed. We cycle everywhere we go – whether that's to/from school, or a recent 6,000 km family bike trip through Australia, New Zealand and French Polynesia. We love to grow and cook our own food, and enjoy a delicious, gluten-free, vegetarian diet that sustains our active lifestyles and adventures. We live in beautiful Whitehorse, Yukon and we feel grateful to be part of such an amazing community. I am also a volunteer Cross Country Yukon ski coach, and serve as a board member of the Community Midwifery Association of Yukon.