Maori greetings, wave racing and a cyclone: New Zealand Week One
Vancouver-Auckland by plane, to Whangarei by bus, and 120 km by bike to Kerikeri
Within the first seven days of our six month adventure across the Pacific, we met a kiwi bird up close, delivered 55 pizzas in our bike trailer to a camp of skydiving competitors, snorkelled with snappers and angelfish, and were rescued from a cyclone by an off-duty police officer.
If this is a normal week on our Oceania Odyssey, we'll need a bigger journal.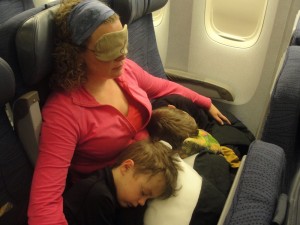 Our 15-hour flight to Sydney went smooth with sleep and movies, but it was our connector to Auckland aboard Air New Zealand that awoke us to Kiwi culture. For starters, the safety video replaced stock footage actors with world surfing champions riding waves – and then sternly reminding us to keep our table trays stowed during take-off and landing. In my subconscious I probably knew to put on my own oxygen mask before assisting others, but for that three-hour flight it was top of mind thanks to a dude with some sick board skills.
After sleeping off our jet lag we bussed out of the big city to Whangarei, the hub of the northeast coast and home of our Warmshowers hosts Paul and Carole, two super-involved members of a small Anglican church in nearby Onerahi.
While we set about assembling our bikes in their backyard, our sons Heron and Sitka discovered a trampoline, and soon two Maori boys of similar age appeared out of nowhere to join them. When you're seven and five, it's pretty easy to find common interests – over giggles and showing off new bouncing tricks, fast friends were made, and the foursome would play near non-stop together for the next two days.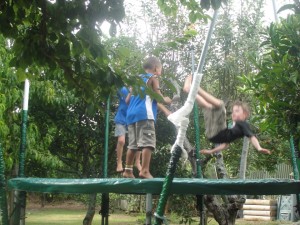 That night we tagged along for the community pizza night, where we were greeted by a few new friends in Maori custom, nose-and-forehead to nose-and-forehead, with a deep breath shared in recognition of the breath of life. We're keen to explore the intriguing relationship between New Zealanders and the indigenous peoples of the islands that appears at first impression quite different from the Canadian experience.
Sitka has been itching for months to eat kiwi fruit straight from the trees that he imagines lining every street in New Zealand. So far, regretfully, the stores stock only kiwis from Italy (we're a month ahead of the local harvest), but we made up for it with a very rare glimpse of another kind of kiwi – just as a few of the nocturnal, flightless birds were being reintroduced into the wild for a conservation project. Before we had a chance to pet the fascinating fellow, we were warned that he has super-sensitive ears, especially to the high pitches of young children. Sitka, renowned for his pitch and volume, admirably displayed his considerable excitement in perfect silence.
It didn't take long to ace biking on the left side of the road, and our first bike day took us to Tutukaka, a tiny coastal resort town where our sons took over the leader roles on the trip. Joce and Sitka went on an epic hike in search of a giant and sacred Kauri tree, which they never would have found if Sitka hadn't insisted he knew the way, when Joce was ready to give up. Meanwhile, Ed and Heron braved a snorkelling / kayaking tour in the Poor Knights Islands, which was amazing but only after Ed filled a barf bag on the rocky boat ride out, with Heron rubbing Daddy's back the whole way and distracting him with excited details about the Tuatara (a "living dinosaur") that also lived on the islands.
Our cycling highlight was the Whananaki Coastal Trail, with head-turning views of the rugged coast below as we pedalled away to our fave tunes on our bike radio. Halfway through, however, it turned to a grass track with five locked gates that we had to lift our bikes and trailers over.
Our frustrations were also tested by Ed riding a half-hour with his drum brake on, and a foot bridge not quite wide enough for our trailer, which had to be disassembled and rolled over the 360 metres of rickety wood. Luckily we had several opportunities to frolic on various beaches that day, daring the waves to catch us. And a kind woman at a corner store re-opened shop at 6:05 so we could get ice cream treats.
The next morning we awoke to news that the tail end of a cyclone was passing through soon, so we fled the coast in search of a campground with cabins. We plowed nobly through several waves of downpour, trudged up steep hills and plucked various debris from our derailleurs. But we were determined to endure – until a gent in a police uniform, standing beside his yellow pickup truck, waved us down and very kindly ended our ordeal. Neal called a buddy and the two transported us and our bikes the last 10k to Kerikeri and the cabin where we would wait out the torrential storm for the next 36 hours.
We're now big fans of kiwis of all kind – the fruit, the bird, and especially the very generous people we've met. Onward to Cape Reinga at the northern tip of New Zealand, for our southward trek to begin!