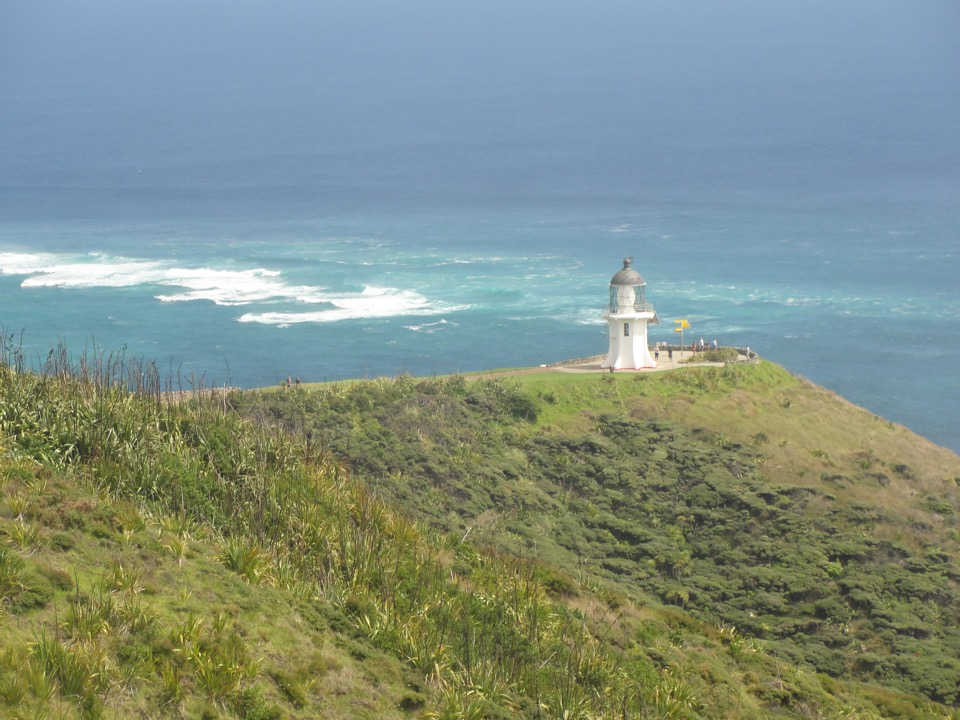 Adapting adds to the adventure: New Zealand Week Two
Kerikeri to Trounson Kauri Park, 310km (total 430km cycled)
With enough willpower and protein bars, just about any place in the world is accessible by bike. Some fewer, however, if you're towing a 75-lb. trailer with a five-year-old.
We wanted desperately to start our tip-to-tip trip across New Zealand at Cape Reinga, cycling along the notoriously rock-hard sand of Ninety Mile Beach for our first day southbound.
But the short timeframe around low tide (about four hours of sure cycling a day) and lack of escape routes, among other logistical nightmares, were holding us back. We exhausted every avenue to make it work, but we couldn't concoct a fail-safe plan we were comfortable with, so we conceded a compromise – cycle to Ahipara at the Beach's southern end, then take a bus tour to the Cape instead. Best. Concession. Ever.
En route to Ahipara we stumbled across a paradise-like beachside campground in Tokerau Bay, where we played in the waves of the Pacific Ocean until bedtime. The next night, we watched the sunset up to our knees in the Tasman Sea. We discovered a tiny museum with a 45,000-year-old Kauri trunk that had been preserved in an ancient swamp, that later had a staircase carved into it. And on our bus tour (during which we got an unexpected chance to ride a boogie board down 50-metre-high sand dunes), we discovered an extra 25k of leg-wracking hills between the Cape and the Beach that would have been disastrous on two wheels even without the trailer.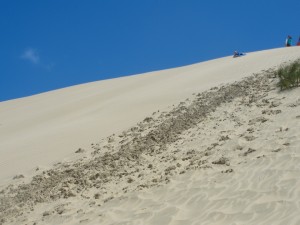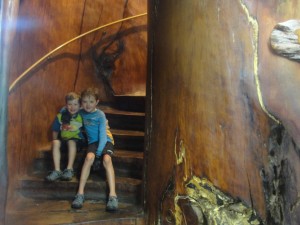 This was confirmed to us by several waves of groaning cyclists we met on the first night of their own Cape to Bluff "Tour Aotaeroa" – they were on mountain bikes with fat tires and only a tiny tent in tow, and they were exhausted by those intense initial hills and a gruelling headwind on the beach.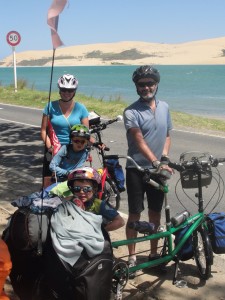 Overall the group numbered 240 hyper-fit cyclists from across New Zealand, led by the author of the book we're using for our trip. We were somewhat starstruck to actually meet Jonathan Kennett – Mr. Cycling New Zealand himself – and ask him in person a few more questions about our route planning. Over the next week, we'd be greeted with encouragement and even gummy treats as bunches of bikers buzzed past on their quest to cycle our three-month route in three weeks.
Inspired by our spandex-clad co-routiers, and joined by a super-cool new friend Katie from Smithers, we pushed the limits of trailer touring to average 50k a day this week. On our first day out of Ahipara, we slogged up several have-to-push-the-bike climbs, got stung by
a bee (Ed) and had a front tire explode under Joce. But we pressed on and (powered by a gallon tub of mint chip ice cream in Broadwood) met the second-last ferry to Rawene, 65k away, eating canned chick peas and French fries (sorry, "chips") for dinner, and arriving to our campsite to great applause from some campervan campers who'd passed us throughout the day.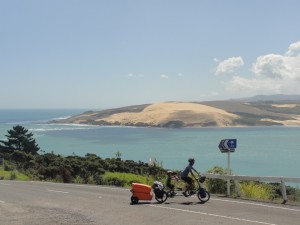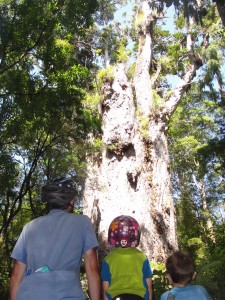 Every day we're rewarded for the phenomenal exercise to which we're subjecting ourselves. We're sometimes grumpy at the top of an unexpected, humongous, 10 percent grade climb, but we look back at views and soak in the marvels of where we've come. One day that was a magnificent forest of Kauris, the thickest trees we've ever seen and second only to sequoias in overall size. Another night it was floating in an outdoor pool under the unfamiliar constellations of the Southern Hemisphere.
We've also been very generously offered ice creams (for the boys), beer (for Ed), and most often accommodation from random strangers in awe of our adventure. Dene and Robin, two wonderful souls in tiny Waimamaku, lent us a tent in their backyard one night, and tomorrow we'll stay with Gerrard and Lorraine in Dargaville. We've resolved to be as warmly welcoming with our own home on our return.
But the best reward happens when folks ask the boys what they really think about cycling all day with Mom and Dad. Sitka's blurted reply one evening was, "I LOVE biking. I love it every day!" Heron, for his part, has already begun plotting our next family bike adventure to Europe.
So we'll press on through Auckland and beyond, enjoying even the hills. But in the spirit of adaptation, we've hatched a plan to pare down our load and ship the excess, inside our trailer cases, to our end point at Invercargill.
No sense missing anyplace a bike can get us.