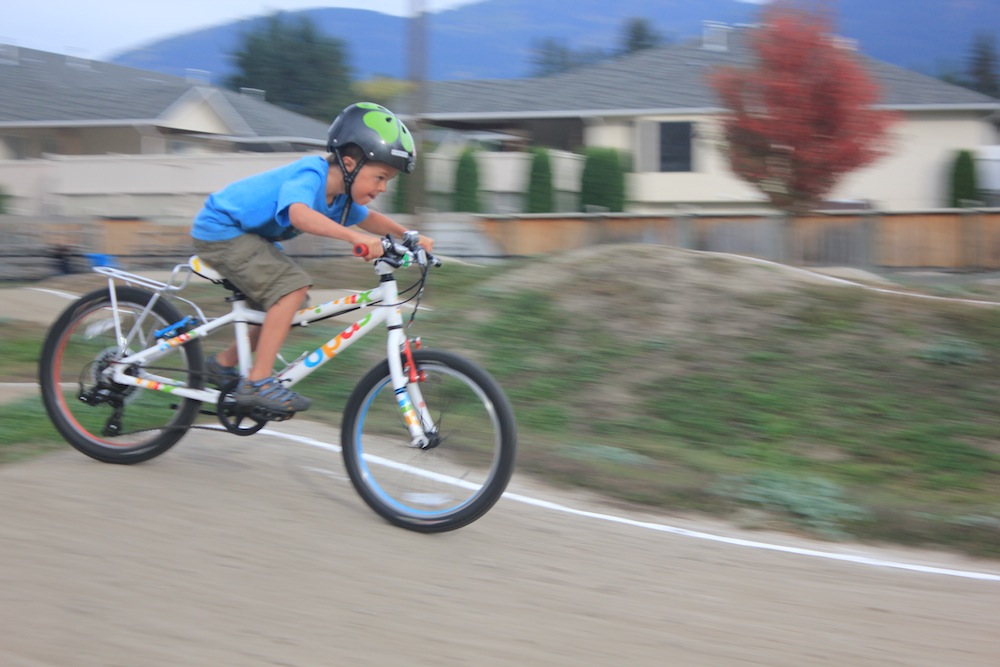 Cycling is such an amazing way to spend time together as a family, stay fit and healthy, and explore new places – and of course help release some of that endless kid-energy! We find this is particularly beneficial for families who are able to cycle to school, especially in helping to increase focus in the classroom.
As a car-free family, we've tried out many different biking arrangements. Here are our best family cycling tips – with gear options from infant to elementary school that will have you and your kids loving two-wheeled transportation! This is a long post, but we know that biking families want details, and that you will want to find the system that will promote the most comfort, happiness, and cycling possible!
The First Year:
What we chose: we opted to not cycle with our infants during the first year for fear of head trauma – this was largely a non-issue, however, as we spent our parental leave year both times hiking overseas with babes in backpacks, and once we returned and the snow melted (we were living in Ottawa at the time) they were one and ready for get cycling : )
Other options: we met many cyclists who were riding with their infants (from one-month and up) around the city on bike paths (off the road) and even cycle-touring. The majority were using a Chariot trailer with an infant sling, some were using helmets, others were not. This is obviously an issue of personal preference and comfort with any associated risks.
Kids as cargo:
What we chose:

Chariot: this trailer was indispensable and very easy to re-sell for high value when we finally decided our two kids were too heavy when they reached a combined weight of 70 pounds (when they were 4 and 2) – the hills in New Westminster were just too much!

pros: mini play and sleep zone for the kids, fully weather-proof, sturdy construction (this trailer went everywhere!), easy re-sell (we started with a single, traded for a double with the second babe, and then sold it off as well), also great for jogging/skiing/roller-blading
cons: at higher weights, the trailer became very difficult to pull up hills, and started to wobble on downhills – that's when we decided they were too big

Xtracycle FreeRadical: we bought this when we moved to New Westminster as our 'vehicle' that could transport two kids and groceries – and even all our camping gear when we go on longer bike tours! We even at times tow both kids with both their bikes in the cargo panniers (we have since added on an extra hub to the back that we can hook our eldest's bike onto on busy roads). We added an extra pair of handle bars (the eldest started on these at age three) and added the Peapod seat for our youngest to use from 1.5 years to age 3. For bum comfort we sewed an awesome bike cushion out of marine vinyl. This is an amazing invention and we expect it will be in our bike collection for a very long time!

pros: amazing cargo potential, can carry two kids + gear, sturdy, fits on the SkyTrain and elevators, comes apart in 15-20 minutes to fit into a bike box or car rack, rides much easier than pulling a trailer, can convert any mountain bike to an Xtracycle with the conversion kit
cons: doesn't fit on a bus bike rack

Other options:

many families use a front or back seat – the front seat, while appealing as your babe is close and easy to converse with, didn't make sense to us from an ergonomic perspective (as it forces knees to go wide while pedaling)
there are many other trailers available – we chose the Chariot since we are also avid cross-country skiers, roller-bladers and joggers, and the Chariot could be used for all of these
Kids as sometimes-pedalers:
What we chose:

Weehoo

: we bought this when our sons were 2

and 4 so we could have an option on bike tours for them to pedal whenever possible, and also to nap safely if they were pooped

pros: rides very smoothly, five-point harness for safety/napping, comfortable ride for kids, pedal when they want/can, two mini-panniers for cargo, water bottle holders, still possible to have panniers on the parent's bike for long tours, fits children from age 2 to 9 (sliding adjustment for leg length)
cons: heavy, no option for detaching when child wants to ride independently, poor visibility (we sewed on reflective tape and added a monkey light), only feel them pedaling when they are trying very hard

Other options

Trail-Gator tow bar

: with this option you get to have a kids bike after you detach, and it's relatively affordable, however it can be wobbly and I wouldn't trust it for a long-distance tour, also no nap option – good choice for city cycling

Trail-a-Bike

: popular option, but can be more wobbly than the Weehoo, and also don't have a bike for independent riding after you detach

FollowMe tandem

: we were excited about this option but couldn't get one in Vancouver, – it's a more secure attachment and you have a bike your kid can ride independently when detached
Kids as full-on riders:
What we chose:

we started with a MEC wooden run bike (there are many varieties of run bike on the market, fairly similar from what I can tell). We gave this to our eldest at age 3, and to our youngest at 1.5 (young siblings learn fast). They both took off right away and developed a great sense of balance that would be helpful later when learning to ride a pedal bike without training wheels.
we moved up to a used 12″ bike without training wheels once they could free glide on the run bike with their feet up (our youngest transitioned before he turned 3)
from there we've continued to move up sizes every year or so. Our 6 year old is currently riding a 20″ frame with 7 gears (they make all the difference in hilly New Westminster!), front/rear brakes and panniers. This is the first bike that we bought new as we wanted a lightweight aluminum frame that could be easily towed on bike tours. Our 4 year old just moved up to his first hand-brake bike and is riding very well independently.
Both boys have a basic odometer, which is highly motivating for them to clock their speed and kilometres (our 6 year old is now riding up to 100km a week, and our 4 year old can bike 20km comfortably in a day). Just be sure they don't get too distracted watching their speed – those sign posts in the middle of sidewalks are great for running into head-first!
Both boys started biking on the road with a parent riding beside him at age 4.5. The trick (other than a very big orange flag on the bike) is a lot of talking through safe bike practices and reminding about the rules of the road while biking together, and having him repeat it back. It's also critical to model uber-safe biking habits (that many adults let slide) like crossing only at lights or crosswalks, full stopping at every stop sign, taking the sidewalk on busy streets and hand signaling turns. We often ride with one parent in front and the other in back, with our son in the middle in single file.

Other options: some folks are still opting for the tricycle to training wheels to bike option, with success, but at a slower speed. From our experience, the run bike is really the way to go as it builds the balance needed to ride a bike and skip training wheels altogether. A trike is still a good very early option to pair with a run bike, as it helps build the muscle memory involved in pedaling for later on.
The future:
I suspect that for a year-long cycling tour we'll want to eventually graduate to the Bike Friday Family Tandems because then the kids pedaling will help us out more and we will feel safer than having either of them ride independently on busy roads on a long tour… however price is a major issue there, so if we can make it work we'll keep the xtracycle and weehoo combos as long as possible!