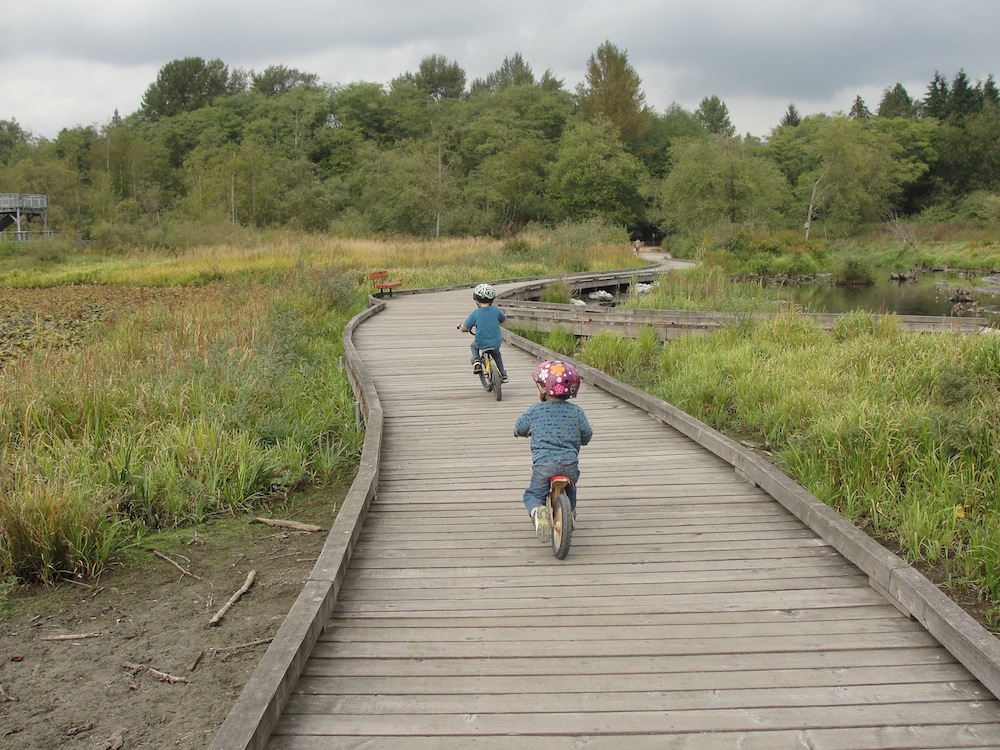 Many of my patients at the Boucher Naturopathic Clinic where I am a student clinician struggle with finding time to exercise. They are also concerned about whether their kids are getting enough activity. Instead of trying to schedule daily workouts for the parents, and separate activity time for the kids like swimming lessons and soccer practice, why not just be active together at the same time? Cycling is my favourite way to exercise with kids – it's a great bonding activity, helps with parents' weight loss goals and helps kids burn off extra energy! In this post I went through bikes for kids by age and stage. Here are my favourite family bike activities and locations. Enjoy!
What you can do together:
new cyclists: tow your child on the back of your bike, with their run-bike in the chariot back pocket to pull out when they want to join you
semi-independent cyclist: cycle together with your child on a trail-a-bike, attached with a gator bar, or on a tandem or weehoo
independent cyclists:

slow speed: bike-and-jog around your favourite 5km loop (you jog, they bike)
medium speed: rollerblade-and-jog along your favourite paved trail (you rollerblade, they bike)
full speed: cycle together along your favourite trails

all ages and stages: leave the car at home and take your bikes instead for getting to school/work/errands/playdates – incidental exercise is the easiest was to increase your daily activity!
Our favourite New West and area bike spots:
tow routes: cycle with your child attached to you until you reach the bike park and set them free there

Boro All Wheel Park (at Queensborough Community Center): combined concrete bowl and BMX track; the off-road BC parkway will bring you to the Queensborough bridge which has separated bike lanes
Taylor Park (near Edmonds station): beginner BMX track; the off-road BC parkway brings you right there
Mountain Air Bike Skills Park (Burnaby Mountain): incredible wood pump track – an amazing asset to this city; skytrain to Lake City Way and then Burnaby Mountain Urban Trail around the mountain
if you're travelling, Vernon, Ucluelet, Tofino and Bowen Island all have fantastic bike parks/bmx trails!

bike and jog routes:

Queens Park Millenium Trail (New Westminster): 2.5 km trail through beautiful Queen's Park
New Westminster Pier: a lovely 2.5 km boardwalk here in new west with playgrounds and river market
Deer Lake and Burnaby Lake: both of these are easily accessible on the Lakes Bike Route – adult bikes are not allowed on the trails around the lakes themselves, but it's easy to lock up your bikes and walk or jog beside your cycling child around the lake, or rent a canoe and paddle around Deer Lake too!

bike and roller blade:

Stanley Park seawall: one of our favourite day trips is to take the skytrain to Waterfront station, bike/rollerblade around the seawall all the way to Main St/Science World station with picnic stops at the beaches, and then hop back on the train to New West – perfect 18km day!

bike together:

New West cycling routes: Vancouver's bike route network is astounding – if you child is road-ready there is so much to explore!
Burnaby Central Park: this beautiful park is right on the BC Parkway off-road cycling route – a great ride from new west and a cycling destination in itself with an extensived forested trail network, ponds and picnic area