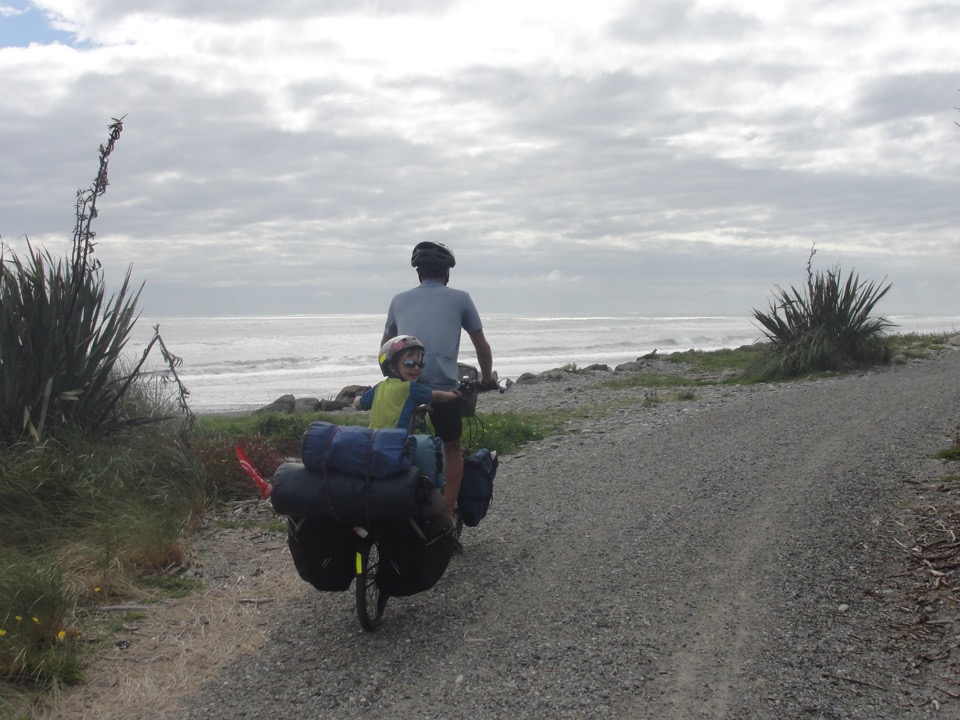 The simple art of spoiling your kids (and yourselves) on the road: New Zealand Week Eight
Kaiteriteri to Greymouth, 357 km (total cycled to date: 2,120 km)
This was supposed to be the easy part. But the bloody sheep wouldn't cooperate.
For two months Sitka has been compiling his 6th birthday activity checklist: ride a horse (must be a cute horse); eat a kiwi fruit cake on the beach; cross the 2,000 km mark for our trip; set a family one-day distance record; and pet a sheep.
So we finally tracked down a "farm stay" overnight at Hu Ha, in the rural middle of South Island. And here we stood, staring down a woolly mamma and her lambs. We've seen tens of thousands of these placid puffballs from our bikes over the past two months, staring lazily at us without a hint of hurry. Our farmer host set us loose in the field alone, assuming we'd have little trouble luring the ever-obedient creatures to our son's eager embrace.
The scene must have been a right riot.
We tsk-tsk-ed and prodded and snuck up on the fluffy things for a half-hour without so much as a fingertip of contact. Ed succeeded in getting the sheep to come closer with some clever crouching – but recoiled quickly when mamma switched suddenly into head ramming mode. It didn't help that we were warned to stay ten feet from the resident billygoat that was much more interested in making our acquaintance. So as we chased the sheep around the poop-covered paddock, the goat chased us. Hilarity ensued.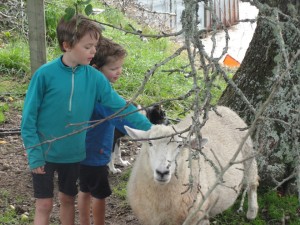 Finally the farm dog corralled the sheep into a spot where they couldn't escape, and they relented until the boys got their fill of rubbing the weather-coarsened wool. The ecstatic smile on Sitka's face was priceless.
We've always leaned towards activities over physical gifts for our family's birthdays – but being away from home for six months with very limited packing space made the choice essential. And the super-simple living of cycle touring makes it pretty easy to spoil ourselves with the simplest of treats.
Over our brief visit at Hu Ha, the boys revelled in the farm life, playing for hours with two other kids: a human named Max and a goat named Nibbles. And Sitka rode a magnificent horse named Image, with the very generous assistance of our new friend and host, Jo. We'd read about several horse trekking places that cost $200 or more – which drastically exceeded Sitka's birthday budget – but 15 minutes wearing his equestrian helmet and being led around by Jo was enough to feel like pure heaven for our happy-go-lucky little boy.
Other days, it's a well-timed ice cream cone or bucket of French fries that makes us feel totally treated. A French toast breakfast with mango is an oasis from oatmeal. And a rainy night in a cabin with bunk beds is like a Hilton holiday when you're used to putting up and packing up a tent and gear every day. We won't even start about the time we camped in the yard of a tiny town hall with a wi-fi connection and got Netflix in our tent.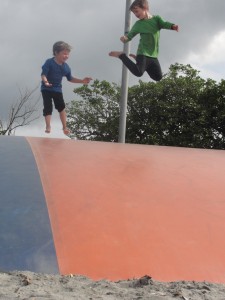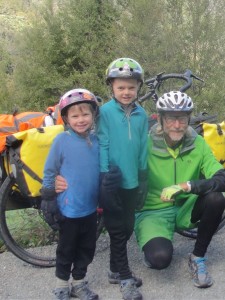 We were also unexpectedly spoiled this week with a delightful biking buddy – Taylor, a merry and thoughtful 60-something from Oregon, into whom we bumped several times in one day and shared a splendid campsite and even better conversation that night, at the country oasis home of fantastic Warmshowers host Bob. Taylor was a very warm and sharing soul who chilled us all out as he went so easily with the flow of his travels. The boys especially enjoyed having him along – they both said that splitting off course from Taylor was the "thorn" of their day after we said our "see you later's" in Inangahua. The best news is now we have a friend in Bend.
And somehow, the planets aligned (we did, after all, see Venus in the brilliant Southern night sky, which comes earlier and earlier as we go deeper into autumn here) to get us to 2,000 km exactly on the eve of Sitka's actual birthday (at least, April 6th in New Zealand), and we cycled our longest day ever (85 glorious km down the Grey River valley) as our little guy turned six, reaching the rugged west coast – where Mommy concocted a gluten-free cake made with kiwifruit and shaped like a turtle (adorned by a 6 candle that big brother Heron bought secretly with his own money), which, of course, we ate on a log watching the massive waves of the Tasman Sea crash onto the beach.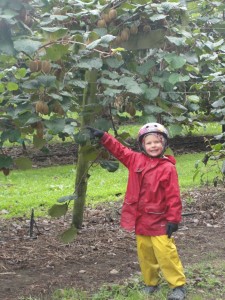 Oh yeah, and we actually rode past a real-life kiwifruit farm this week, too. Because, you know, it was Sitka's birthday.
Maybe we're just an easy-to-please group (Ed, after all, finds nirvana in a bag of salt and vinegar rippled chips). Or maybe the mini challenges (like having to bike 35 km straight in the rain to get to a town with a café to eat lunch in) and small miseries (like arriving in said town and finding it doesn't have a café) make cycle touring conducive to finding simple spoils.
Either way, there are a lot of highlights in each of our days. And when fleet-footed sheep are our biggest complaint, we'd say we're pretty spoiled.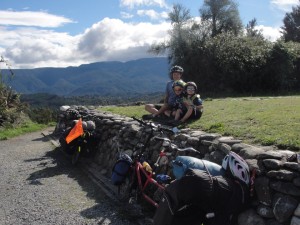 Sitka's week 8 summary: "The cake was really really yummy and awesome, and I loved the ATV bikes. All my birthday wishes came true. I am so excited to start the West Coast Wilderness Trail!"
Heron's week 8 summary: "This was our biggest biking week yet! New records and new bike friend. I am going to miss having a brother who is five!"