Forget Ms. Frizzle, we're riding the Magic School Bikes: New Zealand Week Nine
Greymouth to Fox Glacier, 338km (total cycled to date: 2,458 km)
Sometimes parenting is like a hyperactive game of Trivial Pursuit.
"Where does water come from?" "What's my blood for?" "When did the first human happen?" "How are glaciers formed?"
At home, there's Wikipedia. On a cycle tour along the ruggedly gorgeous west coast of New Zealand, you cobble together the faded remnants from depressingly distant high school and university classes – and then you bike by an actual glacier and discover the answers firsthand.
We encounter a lot of curiosity (slash concern) on our rest stops about what we're doing for the boys' schooling. At their ages they should be in a classroom six hours a day – and they are, only theirs has no walls (literal or figurative) and great exercise, because every day is a field trip.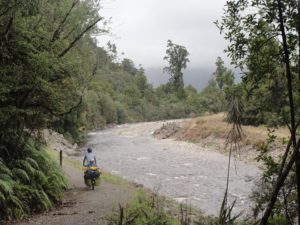 This week in our world-schooling adventure began on the West Coast Wilderness Trail, a three-day inland jaunt through fern-filled native forest and along mighty mountain rivers. The cycling was exhilarating as we slalomed along the smooth off-road paths with loads of twists and bends like a day-long dirt bike ride. While we whisked along, Heron learned several new French verbs with Ed, while Sitka resumed his line of questioning for Joce about human anatomy and bodily systems – kind of a pre-pre-med program for an inquisitive kindergartener.
The bulk of our cycling days are filled with Q&A on whatever whim of a topic piques the boys' intrigue – often it's math or spelling games (we finally stumped them with chlorophyll and photosynthesis), or meteorology, as we experience weather firsthand and endlessly try to predict what the clouds will bring next. One afternoon, we passed a series of reservoir lakes and talked about where drinking water comes from. And when signs warned of old gold mining shafts, we switched on to minerals and geology. For the next week, the boys constructed mining towns at every beach and rest stop, as they often do, recreating what they've seen during the day in their extraordinary imaginations.
We even covered some life skills around problem solving, as we encountered a rushing stream crossing the bike trail. The boys' solution: send Dad across first to see what happens to him. If he's not swept away into the unseen abyss, he'd come back for the rest of us and the bikes. Three streams later, we arrived at the funky campground at Cowboys Paradise, a replica old-west town in a remote forest clearing – time for history class, Dad's specialty!
No parent has all the answers, of course. But our bikes have brought us to a remarkable range of experts, just when we least expect them. We passed a dairy factory this weekend, and the boys wanted to know every step between cow and grocery store. That night, we stayed with our Warmshowers host Kevin, who recently retired from that same factory and had all the scoop on milk production the boys could handle (including a stash of ice cream in the freezer). He also happened to be an expert survival adventurer with endless stories (and how-to tips) on mountain tramping and sleeping in snow caves.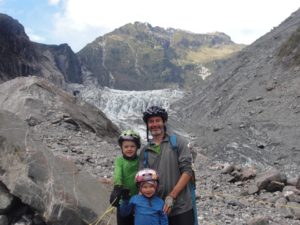 Then, in the evening between our incredible visits to the Franz Josef and Fox glaciers, we stayed with two recent geology grads, Jules and Mark, who have passed the last few months as glacier guides taking tourists up to the summits in helicopters. The boys' every question was answered about the rocks we found (some compressed from sand over 125 million years ago) and how the Southern Alps range is still rising from the rubbing tectonic plates deep below.
We all learn quite a bit on our own, too. Both Heron and Sitka read every info sign they see in its entirety, recounting for hours every detail about the tree or creature in question. Did you know New Zealand's freshwater eel grows to two metres over almost 100 years of life, and at the end migrates far into the South Pacific to an island where they spawn a new generation, that then floats back on ocean currents to the same lake their parents lived in? Well, now you do.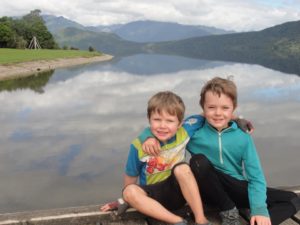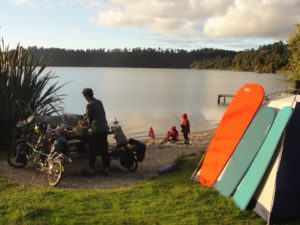 The boys have quickly developed astute family budgeting skills, too. Our daily family allocation is $100 for everything from food and accommodation, to postcard stamps and replacing broken odometers, so every night (especially as night-time temperatures drop) we weigh the costs of sleeping inside a tent versus someplace warmer, with any savings going towards adventure-related treats in the near future. You'd be stunned how seriously and wisely two young boys, who are supposed to have no sense of future gratification for at least another decade, deliberate daily over 20 bucks.
We saved much more than that when we didn't need one of the much-hyped tours to glimpse an endangered white heron (the bird, not the kid) hunting among the rocky river bed below an old rail bridge now used for cyclists. We celebrated our fascinating find with a splurge at the local café – apple turnovers all around!
We also discovered the secret to avoiding weeks of intense ankle itching by sandfly bite: at the picturesque gem of a campsite at Lake Ianthe, we immediately donned every piece of clothing in our panniers and tucked each item into the other, enjoying a scratch-free evening under the sliver moon. Thank goodness none of us are currently in our fashion-conscious teen years.
Finally, Ed taught his sons an important life lesson this week. During an expected downpour (thankfully the only rain in an otherwise gloriously sunny week), the whole family set out wearing the $6 ponchos we bought to complement our much pricier (and less effective) rain jackets. But after an hour flapping loudly in the headwind, Ed's was unceremoniously removed and thrown in the ditch, in what can only be described as a hissy fit. Ed retrieved the poncho at Heron's insistence, and another hour later he sat, drenched, in a warm café while his much drier family enjoyed a chocolatey dessert that he decided he wasn't allowed to eat because, well, he threw his poncho in the ditch. Lessons learned all around!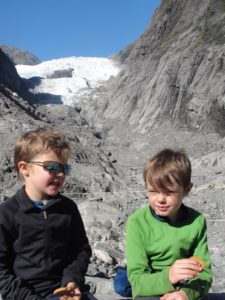 In September, we will send our two boys to formal full-time school for the first time. As we picture them fidgeting at a desk, making pedalling motions with their legs and dreaming of moving to New Zealand to become a glacier guide (as is Sitka's current plan), we're unsure if we feel more sorry for Heron and Sitka, or for the teachers who don't have a glacier, a Kevin or an apple turnover handy.
At least there's Wikipedia.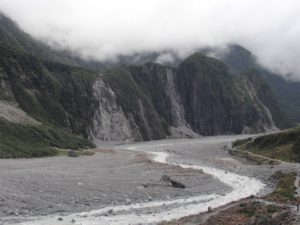 Sitka's Week 9 summary: This was the best week so far because of the two glaciers, white heron and the slomogo (slalom + mogul) mountain biking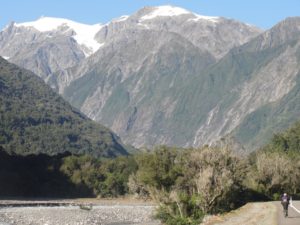 Heron's Week 9 summary: Week 9 was the funnest week ever – glaciers, stream crossings and the Wild West coast. And we got to ride with Taylor again for two days!