Snorkelling with sharks and stingrays, by Heron and Sitka: Oceania Odyssey Week 21
Haapiti to Paopao (Moorea), 228 km (total cycled to date: 5,700 km)
Heron: This was such an awesome week – I can't believe we were swimming with sharks!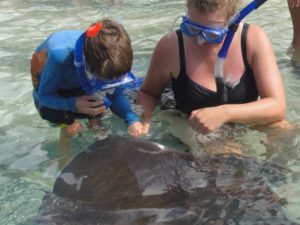 Sitka: Me neither! They were swimming between my legs – stingrays too!
Heron: The first time was at the lagoonarium, which is this motu [Tahitian for 'island'] where this family has been feeding the fish for 19 years so there are tons of rays and sharks and thousands of other fish that come there. It was kind of scary at first with the stingrays, even though they have removed the barbs of the ones who normally come to visit.
Sitka: They were slimy!
Heron: There was a really strong current so they put in all these ropes that you can hang on to as you swim around.
Sitka: It was great to not have to work too hard while you were watching all the fish. When I first saw the sharks I screamed "sharks!!!!!!" through my snorkel.

Heron: But our guide Mahati told us that black tipped sharks don't bite. They still look scary like a shark, but I figured this was my only chance to snorkel with sharks, so I did it anyway, and it turned out to be my favourite day in Moorea.
Sitka: I would TOTALLY recommend it!
Heron: It was such a great week at our beach house snorkelling and kayaking every day.
Sitka: I wish I could have seen the sea turtle that Mom swam with at Ta'ahiamanu beach, but I was on the beach playing with coconuts. I am going to keep looking every day for a turtle.

Heron: It is so great that we have our bikes here – there is only one supermarket and it is 26km away. France paid for the ring road to be paved, all the other roads are pretty crazy – we could only bike halfway on the road to the waterfall, but then we made friends with Fabrice and he hiked us there and j'aime la cascade beaucoup!
Sitka: It is really fun to be able to bike anywhere on the island for our adventures every day. The ring road is only 60km so we can go anywhere we want. The kids here all have bikes and do really awesome pop-a-wheelies – they can ride on one wheel for more than a minute, like a unicycle!
Heron: There are more scooters and bikes than cars here! The speed limit is only 60km per hour – I really like that, everyone has time to say Bonjour and Ia Orana [Tahitian for "hello"].
Sitka: All the girls wear flowers in their hair and wear very colourful pareos [Tahitian skirts].
Heron: Mommy has a pareo too
Sitka: It is so pretty.
Sitka: I can't believe that one day we rented a motor boat to go to two other motus!
Daddy did really awesome steering the boat – it was his first time and you didn't even need a licence! He had to ride against the current into the channel. Full throttle!
Heron: For the second time we snorkelled with sharks and stingrays. It was so crazy to see them swimming around our boat, and then jumping in with them!
Sitka: These ones still had their barbs on, but they only sting you if you bother them. So we didn't bother them.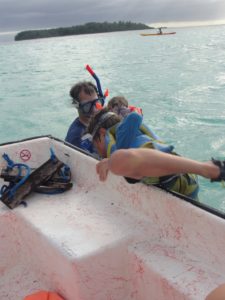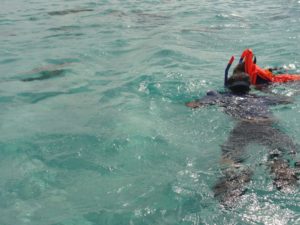 Heron: Snorkelling between the two motus was awesome, floating with the current and seeing the whitebanded triggerfish, butterflyfish, pufferfish, bullthead parrotfish and flute mouths.
Sitka: We really like the fish guide that Mom bought us!
Heron: When it was time to move from our beach house to our mountain house I was sad to leave – it was the longest we have stayed anywhere on this trip.
Sitka: I like new things – my brain always tells me "this is going to be FUN!"… and then it is!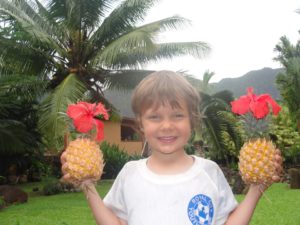 Heron: When we got to the mountain house I was happy – it is a great rainforest retreat – pineapples and baguettes delivered to your door in the morning, mountains and palm trees in all directions, and still close to the beach – only 1.5km of muddy potholed road to the ring road and the ocean.
Sitka: There is even a pool and jacuzzi!
Heron: Mom put this really cool app on the iPad that helps us find all the constellations and planets at night.
Sitka: We are going to miss seeing the southern cross. It is so cool to see Mars and Jupiter and Saturn!
Heron: And our astrology signs Aries and Taurus!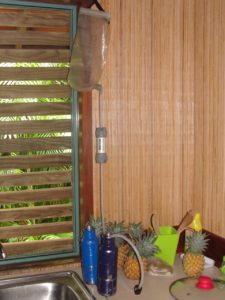 Heron: We have been eating mostly salads and fruit – lots of yummy pineapples – Daddy likes picking the passion fruits right off the trees. It is hard to find stuff like gluten-free pasta but that's okay. I am so glad that we have our water filter from camping – it saves us like $20 a day and we don't have to haul bottled water up the hill every day either!
Sitka: The roosters wake us up really early here! The geckos are really cool though. Daddy screams really loud when they jump on him.
Heron: We met anther family that was sailing around French Polynesia – it was so cool to meet a sailing family! That would be so much fun, except that Mommy, Daddy and Sitka all barf a lot on boats.
Sitka: They told us that kids fly free with Air Tahiti – that is so cool! Now we have to come back here!
Heron: Yep! We should definitely come back here. It's 25 degrees every day and every night all seasons. Time to go swimming!