A holiday in a vacation: Oceania Odyssey Week 21
Tewantin, Australia, to Haapiti, French Polynesia – 70km by bike (plus bus, plane and ferry) (total cycle mileage to date: 5,472km)
A little finger poked Ed through the mosquito net, rousing him from the deepest sleep he'd had in months. It was a boy whose face looked like Christmas, birthday and ice cream all at once.
"Daddy, est-ce que je peux aller nager dans l'océan?"
Heron's perfect français made him quickly forgiven for the early-morning intrusion, and within the hour we were all frolicking in the shallow South Pacific reef waters. After all, it was right below the deck of our Polynesian beach hut.
The glorious scheme of our Oceania air miles flights has landed us a three-week stopover on the island of Mo'orea, quiet cousin of Tahiti in the South Pacific tropics. We're living in one of those travel-agent brochures with the honeymooning couple and the only reference you've ever seen to the colour "azure." We can confirm such water truly exists in this postcard paradise made of lush rainforest volcanoes, encircled by a ring of offshore barrier reef creating perfect snorkelling lagoons right off the beach with calm waters, perfect visibility and endless sea life.
With our budget, we certainly don't belong here (Joce unearthed a deal on VRBO that is one-tenth the cost of the handful of international resorts, though similar rates can be found if you're willing to fly in with no reservation and trust the hand-painted "bungalow à louer" signs lining the road). But so long as no one asks us which companies we CEO, we'll just keep on snorkelling.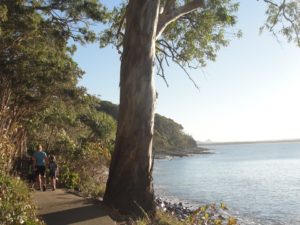 In our minds, we've earned this little getaway from our much larger getaway. This week we completed our 2,000-km ride from Sydney to Noosa Heads in Australia with no snake bites or limbs left behind in the bellies of crocodiles – what successful parents are we.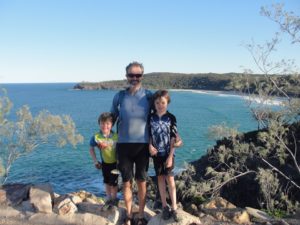 Our last day in OZ was epic in itself, as we cycled into the gorgeous oceanside town of Noosa and watched a sick koala get rescued from a tree on a hike through Noosa National Park. Ray and Murray are two brothers who invest the spare time and 95% of the profits from their auto repair business in traveling across Queensland saving koalas and bringing them to veterinary hospitals where they can get treatment. They were true pros, scaling a huge gum tree with ropes and pullies to very gently catch a less-than-cooperative koala, with a large audience of passersby applauding the final descent after an intricate hour-long operation. The boys asked if we could send a donation that night, and we received back a detailed email about the prognosis for Cuddles the rescued koala and the brothers' efforts to secure a safe refuge where rescued koalas can recover their strength and their numbers. Very impressive for two dudes' hobby of the heart.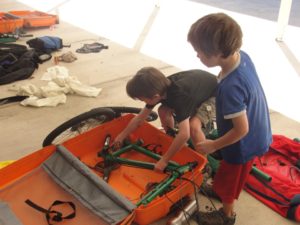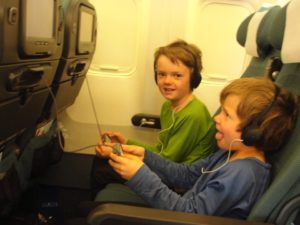 From Noosa we embarked on a multi-day journey to our beachfront retreat: one day by bus to Brisbane, a day by plane to Auckland, a day by plane to Tahiti, and then finally by ferry to Mo'orea. Joce was in charge of making sure we did some exploring/exercise every day and slept enough despite constantly changing time-zones. Ed was in charge of packing (we tag-teamed the tandem breakdown, getting our tired bikes and all their parts into their travel cases in a record 70 minutes – a fifth of the time it took Ed to do it solo back in Invercargill) and the constant re-jigging of liquids and sharps you can or can't bring on board. We all kept our fingers crossed that our bikes/cases would slip through unnoticed and under the weight limit (difficult when Sitka proudly proclaims to the ticket agent that "our bikes are in there!"), and thankfully made it through every stage without any extra baggage fees (this does require carrying on all eight panniers, one each as our carry on, and the other as our "personal item", but well worth it when every extra kg is $20!). And the boys lost themselves in a world of watching airplanes refuel out the airport windows and in-flight video games and movies – it was a great effort to make sure they ate or drank anything at all for four days of non-stop distraction.
Long ago – in a manic break from studying for her medical licensing exams – Joce plotted out the Polynesian leg of our odyssey. The only things we actually knew about the place were that a) it was a free stopover option with Aeroplan; b) it had some of the worlds best snorkelling; c) our friend Jess recommended it from her days of sailing around the world as a teenager. We had been so in the moment in Australia that we had put precisely zero thought into where we were going until we emerged from our plane into the thick, humid air of the tropics and complete immersion in French. The boys were stifling in their merino wool cozy outfits and we had no idea where the sunscreen was. We weren't entirely sure which hemisphere we were in (still the south, just a smidge on the Canada side of the international date line, so we left Auckland on Monday morning but arrived on Sunday afternoon – très cool to the boys, entirely disorienting for the adults).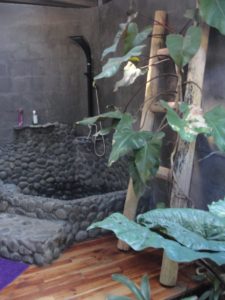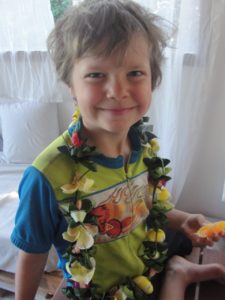 But Joce's meticulous, months-ago planning paid off. Tutea, our lovely host for the overnight in Tahiti, had a lei in hand for Joce and a huge car trunk for our loads of luggage waiting just outside customs. Soon the boys were sleeping off the four-hour time change in a beautiful cabana with an outdoor rainforest bathroom, and Ed had re-assembled the bicycles for our 45-minute ferry ride to Mo'orea the next day.
We awoke to a bout of culture shock after five months in New Zealand and Australia. Tahiti and the 118 islands that make up French Polynesia receive less tourists in a year than Maui does in a week, and the difference is palpable. Roosters, dusty roads, mopeds and tin roofs prompted Heron to ask, "Is this what India is like?", to which we responded, "No not really, more like Hawaii without having the America in it."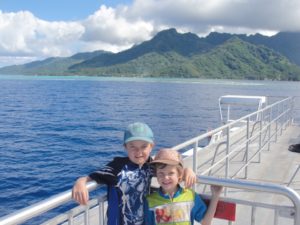 Our comfort level was amplified by having our trusty bikes under our butts as we navigated our way (on the right side of the street now!) through Papeete through diesel traffic to a grocery store and the ferry terminal an hour away. Another hour later we were whisking along the flat, paved ring road that circles the idyllic Mo'orea coast, with those rainforest volcanoes on our right, azure waters on our left, and fruit stands around every corner.
Our beach hut was on the exact other side of the island – but that was only 30km with the only hazards being the odd dog sleeping in the bike lane and the occasional chicken running across the road. The locals greeted us warmly as we rode past, probably because they'd never seen gringos (or whatever is French for gringo) using the same transport as most of them use. Or maybe it's because they thought our spandex and helmets looked downright hilarious.
Despite Joce's planning, we weren't entirely confident that our beach hut existed. Some weeks ago we checked the VRBO site, and the listing was no longer there, and neither was any record of our reservation. VRBO had assured us after reviewing this "suspicious activity" that we would be guaranteed a place to stay, at up to double what we had paid. Unfortunately for us, typical Moorea accommodation runs upwards of $600 a night, so even at double our rate, we would be lucky to find a last minute shed to accommodate us. We cycled with nervous trepidation until we finally arrived and were greeted by the very chill and shirtless Ano, who nonchalantly showed to the most perfect beach house imaginable.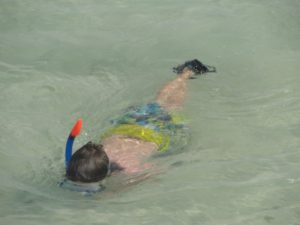 Our deck hangs over top of our private beach, with four steps down to sand and coral. We asked Ano for suggestions on where the best snorkelling is on the island, and he pointed to two buoys 100 metres off our deck and said, "C'est là où sont les poissons et les tortues." If pineapples could be delivered, we quite likely would never leave, ever again.
Sure, there's some talk about stinging rockfish. But we've learned to swim with our sandals on, so it's all ocean all day long. The boys paddle about in the (free!) kayaks, towing each other to and fro, and after only a couple days they are super comfortable with their snorkels on (they have even concocted their own "kayak-orkel" set-up).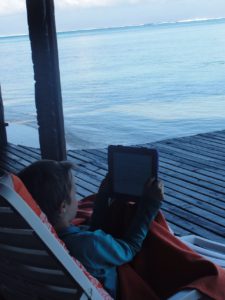 Tomorrow we might leave our oasis to bike down the road to check out some more snorkel spots. But for now it's Christmas in July, and we're all popping out of bed every morning excited to start playing.
Heron's Week 21 summary: We did so much travelling and took so many airport shuttles this week! Brisbane was cool. Seeing the koala being rescued in the wild in Noosa was so great! It is so relaxing in Moorea – I love all the fresh pineapple and being able to kayak right in the coral reef. I can't believe that the closest thing to French Polynesia is New Zeland which is 4327km away! J'adore Moorea – c'est super!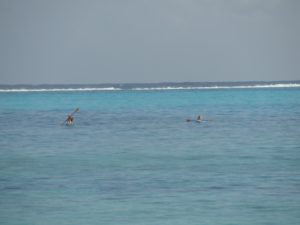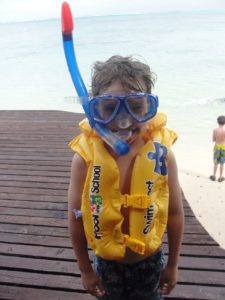 Sitka's Week 21 summary: I love Moorea so much I could stay here for three years! I really love snorkelling – you can see hundreds of fish that you didn't even know were there!  Everyone should donate to Koala Rescue Queensland, they are very awesome. Je mange les ananas tous les jours!