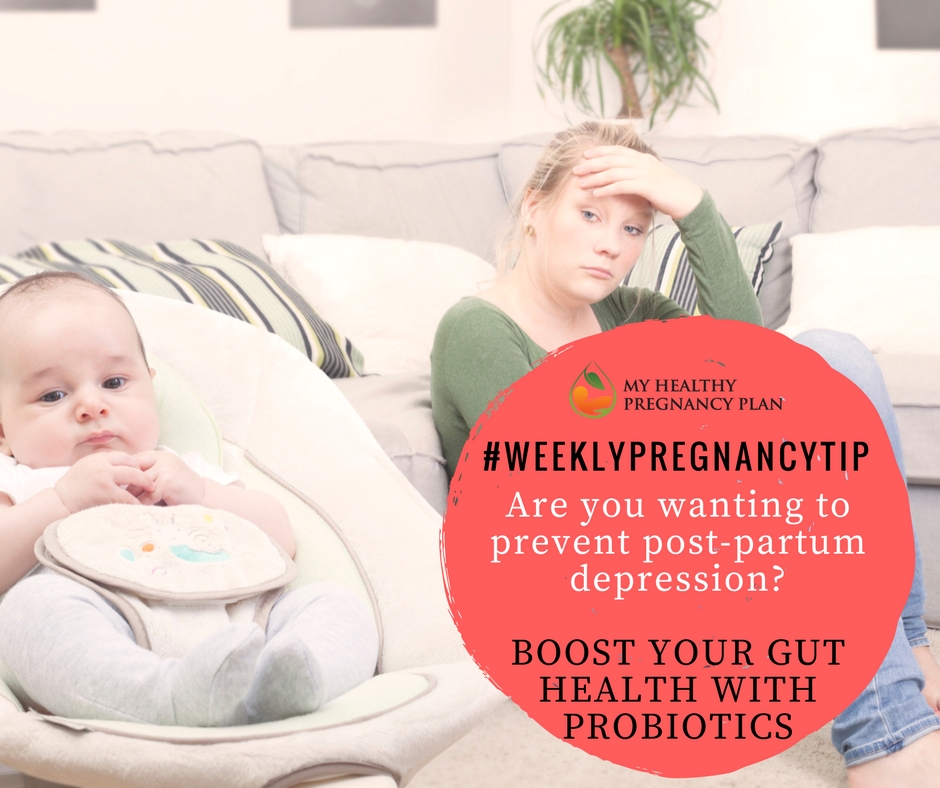 The "gut-brain-axis" is getting a lot of buzz these days as we better understand the connections between intestinal function and cognitive/emotional centres in the brain. In short, the billions of microbes living in your gut affect how we think and feel – both positively and negatively. For example, dysbiosis (an imbalance of these microbes) has been associated with central nervous system disorders like autism and anxiety-depressive behaviours.
This month a new study came out showing that women who received probiotics from early pregnancy through to 6 months after birth had significantly lower depression and anxiety scores in the later post-partum period. This is consistent with previous studies linking probiotic therapy (typically Lactobacillus and Bifidobacterium) with lowered rates of depression in the general population – and it shows much promise for using probiotics to prevent or treat symptoms of depression and anxiety postpartum.
Post-partum depression (PPD) is something I am always looking out for with new moms in my practice. PPD can be debilitating for a mother – affecting her ability to care for and bond with her new infant, her quality of life and daily functioning, and can have long-lasting effects on her children's cognitive, social-emotional and health outcomes.
Another interesting link to PPD was established last month in the British Medical Journal, showing that lowering glycemic load (focusing on eating foods that do not cause spikes in blood sugar) in late pregnancy might also protect against postnatal depressive symptoms. A low glycemic diet has already been established as a good choice for decreasing fatigue, large-for-gestational-age babies, and gestational diabetes – adding preventing post-partum depression makes the argument even more compelling!
The study did not establish the mechanism between glycemic load and post-partum depression, but we can speculate that this also ties in with the gut-brain-axis, since high-glycemic diets are well-known to disrupt the gut's microbe balance by promoting growth of pathogenic (harmful) vs. symbiotic (helpful) microbes in the gut.
I hope you have found this helpful, and do let me know if you have any questions!
If you are hungry for more evidence-based information in your pregnancy, sign up for my free webinar: 7 Pregnancy Myths Debunked – and get the information you need to have a healthy pregnancy and a thriving baby.
And if you are a care-provider looking for evidence-based resources for your pregnant patients, please get in touch with us at support@myhealthypregnancyplan.com.
In health,
Dr Jocelyn Land-Murphy, ND
Terra Life
Disclaimer: The information and content provided is for general educational and informational purposes only and is not professional medical advice, nor is it intended to be a substitute therefore. Please consult the Disclaimer and Terms of Use for full details.
References:
Carabotti, M. et al. (2015). The Gut-Brain Axis: Interactions Between Enteric Microbiota, Central and Enteric Nervous Systems. Annals of Gastroenterology, 28(2): 203-209.
Inskip, H. (2017). Glycaemic load and index in pregnancy are associated with postnatal, but not pre-pregnancy, depressive symptoms; longitudinal data from the southampton women's survey. Journal of Epidemiology and Community Health, British Medical Journals, Sept 2017.
Mayer, E. et al. (2015). Gut/Brain Axis and the Microbiota. Journal of Clinical Investigation, 125(3): 926-38.
Moses, R.G. (2006). Effect of Low-Glycemic-Index Diet During Pregnancy on Obstetric Outcomes. American Journal of Clinical Nutrition, 84(4): 807-812.
Moses, R.G. (2009). Can a Low-Glycemic Index Diet Reduce the Need for Insulin in Gestational Diabetes Mellitus. Diabetes Care, 32(6): 996-1000.
Slykerman, R. et al. (2017). Effect of Lactobacillus rhamnosus HN001 in Pregnancy on Postpartum Symptoms of Depression and Anxiety: A Randomised Double-blind Placebo-controlled Trial. EBioMedicine, S2352-3964(17): 30366-3.
Ursell, L. et al. (2012). Defining the Human Microbiome. Nutrition Reviews, 70(1): S38-S44.