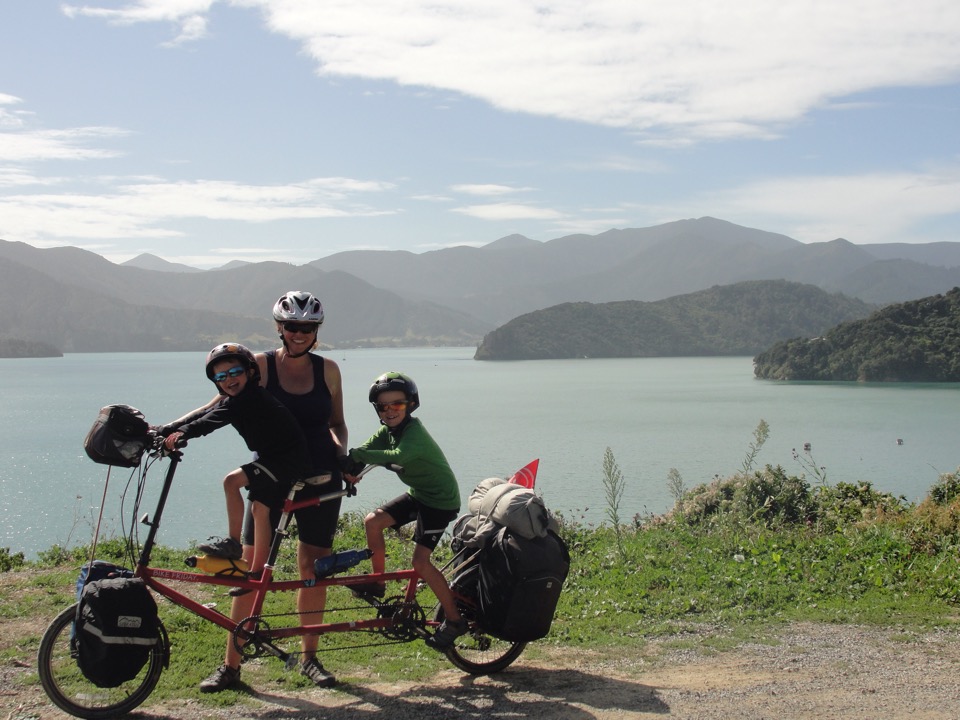 Modern explorers, endless newness: New Zealand Week Seven
Picton to Kaiteriteri, 261 km (total cycled to date: 1,763 km)
It's pure peace.
Like I'm living inside a meditation tape, I hear only the soothing waves of the sea. Open my eyes and I'm still there – perched on a driftwood log, watching the tide slide out of Tasman Bay. To the right, the last sliver of sun clings to the mountains we conquered a few days ago, en route from the mountain biking paradise of the Marlborough Sounds. To the left, the vast, rocky wilderness of Abel Tasman National Park – tomorrow's quest – stretches northward into the water. Down the middle, a 75-km-wide horizon ebbs and flows at its own lazy pace into the open ocean.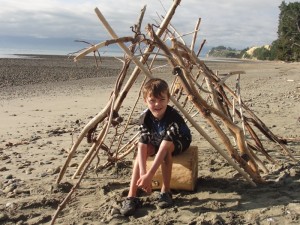 I'm on Kina Beach, in a perfect spot I may never see again. Before me are the ruins where briefly stood an ingenious stick fort that the boys constructed as a fleeting testament to our presence. The bikes are parked next to our tent just ten metres behind me, resting for our next expedition. We've claimed this space for tonight, and in the morning we'll leave it for someone else to discover. We're modern explorers, without the colonialism… or (thanks to Joce's veggie obsession) the scurvy.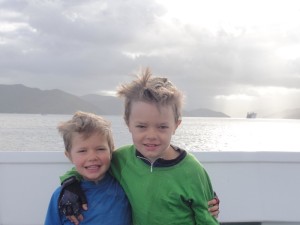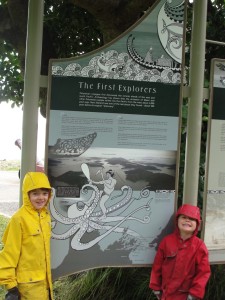 Like Columbus and Cartier, we thrive on discovery. Every day on a cycle tour is entirely different – an exhilarating and endless cycle of new scenery, experiences and friendships. This week we began at Ship's Cove, where Captain James Cook first set a European boot on New Zealand (500 years after the Maori traveller Kupe actually discovered the place).

Over three days we hiked and biked along the Queen Charlotte Track, a challenging mountain trail for even those riding on one seat and shocks, let alone two seats and a full tent setup. But Joce and the boys tackled every joint-jolting bump and skill-testing hairpin turn with giddy gusto, while Ed mostly fretted – unnecessarily – that the next ka-whump would snap a spoke. Our panniers kept flying off and our front tires swooped precariously close to cliff sides, but we were rewarded with panoramic vistas we could have never seen from the road.
Like Cook 250 years ago, we weren't alone here, as Easter weekend brought out the last summer wave of outdoors-loving Kiwis in hiking boots, mountain bikes and sailboats. Still, two fully loaded tandems stood out on the rocky terrain, so we were cheered on and questioned about our travels by curious passersby. We even found a treasure trove of kiwifruit hidden on our bikes and around the campground Easter morning, presumably by the Easter Kiwi bird who must have received an email from her North American cousin that we would be in the neighbourhood. Another Easter treat was camping for the night with Jocelyn's classmate Meghan whose South Island holiday happened to criss-cross with ours.
Apart from the bounty of geographic wonders around every hilltop, cycle touring offers endless opportunities to find new friendships – some that last the length of a jovial conversation about where we've come from and where we should go next; and some that could last a lifetime.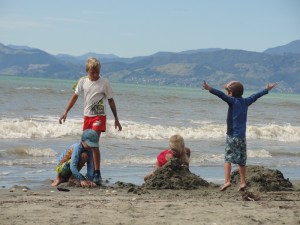 A few weeks ago, we met Chris as he was whizzing past us on the Tour Aotearoa – the super-cool Cape-to-Bluff tour of super-fit cyclists organized by the Kennett brothers. Chris is a dad of four outdoors-loving kids, so he gave us his number in Nelson and said it would be fun for our cycling family to meet his. For weeks now, the boys have been marvelling about the Tour riders and imagining them bustling along the trails and roads we're on. So a chance to catch up with Chris in his hometown Nelson – just days after he finished our three-month route in 25 days – was like meeting a superhero to them.
It was a great bonus that we made fast friends with his family – the youngest two, aged 10 and 8, welcomed Heron and Sitka immediately into their play world of trampolines and board games. We stayed a couple nights in their beautiful home like we were old friends, heading off to the beach on Rabbit Island for sand castle building, and even joining their Sea Scout evening rafting expedition. We even got our first shot at driving in New Zealand – Chris and Toni's windshields have never been cleaner, as we aced the whole driving on the left part, but every time we tried to signal a turn, the wiper blades started whipping back and forth.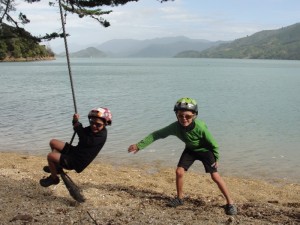 Weeks like these make us appreciate bike touring for the daily diversity that we never see coming. We pore over maps and make plans in advance, but afterward those same maps are alive with memories from every dot and street.
No wonder the boys can't decide how to spend the $100 they each received from their Gamma for their April birthdays – there's no way to tell what's coming around the next bend. For weeks now, they've snatched up every tourism guide and spent hours discussing what activities they would like to do en route, balanced of course with money left over for as many ice cream cones and pounds of gorp as the budget and their birthday money will allow!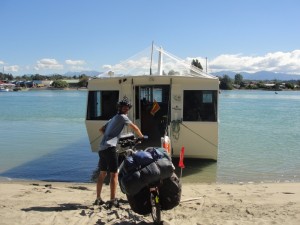 After a sun-soaked couple days meandering along the Tasman Bay's splendidly scenic and well signed Great Taste Trail, including a bike ferry to Mapua and a thrilling trek through Kaiteriteri's mountain bike park, we caught a late-afternoon cruise past the many quartz sand beaches of Abel Tasman National Park (which amazingly looks like a kiwi bird head on a map) and spied some blue penguins and fur seals sunning and playing in the rocky surf.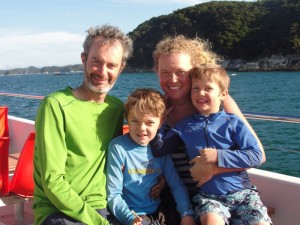 Their secluded island colony was yet another land we modern explorers could claim for the scrapbooks in our heads – so we don't need flag or title over the places we've been, because when we close our eyes, we're there all over again.
Week 7 summary by Heron: "This week was awesome trail week – Queen Charlotte Track and Great Taste Trail!"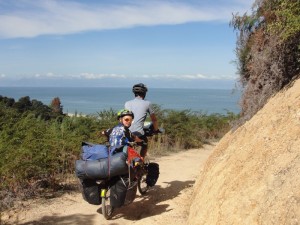 Week 7 summary by Sitka: "Best Easter ever! I loved the mountain bike park, blue penguins, seals and Queen Charlottes!"