Cruising to the Capital, and Away to South Island: New Zealand Week Six
Whanganui to Picton, 272km (total cycled to date: 1,502km)
On every cycle tour, there are stretches where little glitches start to nag: something rubbing on your tire that you can't quite figure out, never catching enough morning sun to dry out your tent, or every night someone different having to pee at 2am – when it's finally not one of the the kids, it's you.
This week had none of that. We don't think the Maori have a god of bicycles, but some force of pedal-powered nature shone mightily on our foursome for a full seven days of heavenly sweet cycling – a perfect last week on New Zealand's North Island.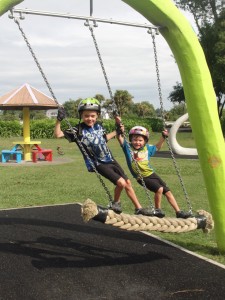 We started off dry and clean thanks to our wonderful Warmshowers host Karen, a kindred soul who followed her dream of owning a pet shop and is now plotting an inspiring retirement bike trip up the length of the Americas. We shrugged off a late start and stopped by a recently restored uber-park with an epic "flying fox" zipline, before heading out for an idyllic weekend ride up sheep-dotted ridges and down dramatic gorges of Kiwi agricultural hinterland.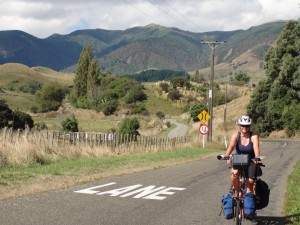 We arrived late that night at our motel – the first one since Day One in Auckland – and caught the owners just as they were closing for the night. While we waited for our room minutes later, the skies opened up and poured mercilessly as we huddled inside the motel café, warm and dry.
Moments after that, we received the email we'd been waiting for: Joce passed her mammoth medical board exams, and was thenceforth and evermore Dr. Jocelyn Land-Murphy! Thankfully there were few other guests that night, because the four of us cheered and celebrated pretty loudly.
The giddy vibe followed us for our marvellous four-day ride through the Three Rivers / Gorges-to-Sea / Manawatu Cycleways, the late summer sun offering just the right heat and the remote roads virtually car-free. We even picked up a stubborn flock of puffy woollen sheep who mistook us for farmers, letting us herd them in front of our bikes for several miles before finally veering off into the bush. Who'd have thought sheep could run so fast?
Even when we had to stop short of our destination one night because Daddy was feeling underfed (more on the challenges of satisfying Ed's monster appetite coming soon), we found a campground in a tiny town next to an amazing playground where the boys frolicked until bedtime on the "roktopus."
And it meant the next night's stop was closer than planned, too – there we discovered a perfect swimming river at Totara Reserve, with shallow rapids for floating freely on our backs as the sun set on the clay cliffs across from us.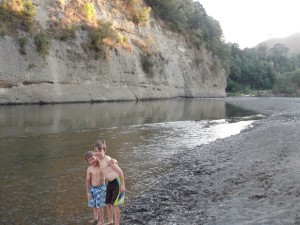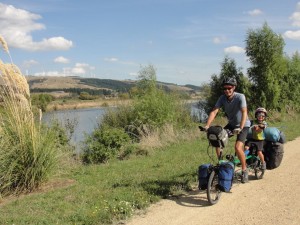 From there, we were entering the urban final phase of our North Island tour, which made us nervous leaving our relaxed riding for the hectic cityscape. But every step went like clockwork – from a fantastically flat bike path in Palmerston North, to a dreamily simple commuter train ride into Wellington and perfectly timed meet-up with Joce's Kingston cousin Sue and her holidaying family at the famous Te Papa museum (where the boys sprinted excitedly from exhibit to exhibit including a simulated earthquake and the world's fastest motorcycle, designed by a dyslexic Kiwi).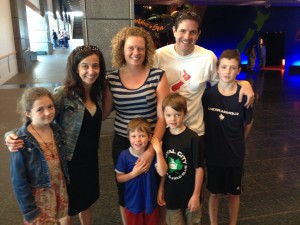 Every bus and cable car was waiting for us when we needed them; the botanical garden we wanted to see had a killer playground the kids loved; the New Zealand "Beehive" parliament buildings had a fascinating tour running just as we arrived; the maritime museum that topped Heron's list was open for 30 more minutes as we whisked in before day's end; and there was even a funky urban stairway from which Ed merrily joined the other loonies leaping carefree into the harbour below. Even the wind was blowing our way as we circled the coolest capital in the world (that's their slogan, and we wholeheartedly agreed).
Our wonderful week was made all the easier by welcoming Warmshowers hosts Phil and Linda in Palmerston (who fed us a scrumptious chickpea dish and helped us navigate the city at 5:30am for our uber-early train to Wellington), Julie and Thomas in Island Bay (who let us waterproof our tent on their backyard, and won over the boys with their Xbox dancing games), and Don and Val in Picton (who won over Ed with a just-like-home peach crisp).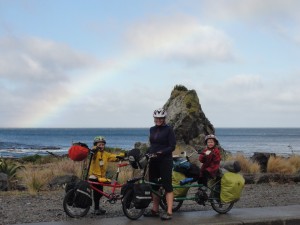 We thoroughly thrived on our restful two-day stay in Wellington, capped with a full-on, tip-to-tip rainbow off the Tasman Sea coast, Heron imagining himself moving here for university (thinking ahead as always), and rolling into the ferry terminal a minute ahead of check-in – just in time to watch the train roll onto the boat in front of us (train on a ferry equals five-year-old's mind blown).
So we set off across the Cook Strait for Picton, gateway to the South Island, with the only glitches that we missed glimpsing the pod of dolphins swimming beside the ferry, and we missed our North Island mileage goal of 1,500km by one km.
Lately we've been told a lot that the South Island is even more beautiful than the North. After this ideal week, we're pretty psyched to find out how it possibly could be.
Week 6 summary by Sitka: "North Island complete!! My life is so good because I have a brother."
Week 6 summary by Heron: "Week 6 was lucky week – we caught everything just in time! Wellington was windy but awesome!"