Time for Plan B: Oceania Odyssey Week 16
Forster to Port Macquarie, 243 km (total cycled to date: 4,145 km)
Short of a crocodile sniffing on the other side of the nylon, the most panic-inducing sound to hear in a tent in the middle of the night is a wretching six-year-old – especially when you realize there isn't a barf bucket.
It was 4 am when our poor Sitka emptied his belly in a pool next to his thermarest. By some divine grace he missed his sleeping bag and all the piles of panniers we now keep inside for fear of spider invasion. But it was still freezing cold outside and full-on barf stink inside as Ed shuttled back and forth to the camp kitchen for cloths and dish soap, and Joce cuddled our sobbing son.
Sometime during the third barf wake-up, Joce felt a sharp bite on her wrist. But not wanting to bother an already disturbed tent, she quietly checked her own vitals, assessed that she was still breathing, and went back to bed without alerting anyone. After the chirping chorus of magpies made further sleep impossible around 6:30, she casually asked Ed to insert the SIM card into the iPad so she could check her spider bite online and be sure the deep red rash up her arm was no cause for alarm. Since Joce's airways remained open, Sitka seemed as if he could barf no more, and we were out of food, we opted to bike 60km on to the next town promising groceries and an indoor night.
This was not the optimal way to launch into phase two of our Australian cycle adventure, riding in to the thousand-metre-high tablelands to avoid the frantic coastal highway. Over the past few days, everyone we met raised eyebrows and warned about the intense hills, cold and remoteness of our next two weeks – and although Ed had diligently plotted our route for campgrounds, scenic highlights and grocery stops, we were still nervous about venturing into the Australian wilderness. "Ah, we're Canadian," we'd say. "We can handle wild animals and frost on our tent."
An hour inland, the headwinds began to gust and the hills started rolling steeper and steeper. Our resolve began to evaporate when we noticed we were pedalling hard even on the downhills; then more so when clouds came from nowhere and dumped 15 minutes of heavy rain before easing, with more threats in the distance. Three hours of miserable cycling later, we tried a re-boot by stopping in (the only) tiny village at a cute café for a delicious (if expensive) slice of gluten-free orange cake with passionfruit icing – but as the sugar rush faded, so did we. Joce's sore knee, which angrily protested the headwind and frequent climbs, combined with sleep deprivation and the spider bite, had her sinking fast, and Sitka's barfing had also resumed, along with frequent diarrhea stops. This was quickly becoming our worst day of the trip, and we still had 25km to go.
Just as Jocelyn was about to meltdown and vocalize her surrender to her bike-mate Heron, a car with a bike on the roof pulled over on the crest of a hill in front of us.
"Did you want to come in out of the wind for a hot chocolate?" asked Arthur, our guardian angel in Lycra shorts. "My house is just up ahead."
"We would love to, but I'm afraid that if we stop we won't make it to Gloucester by nightfall," sighed Joce.
"Gloucester?!?" came the incredulous reply. "You'll never get there in this wind. Come stay the night with me and my wife Sally. The boys can play Lego."
Both mother and son sold in an instant.
Meanwhile, Ed was puffing along behind when Sitka caught his pants in the bike chain and tore the merino wool to shreds. So he was still sobbing by the time tandem number two reached the hill crest.
Normally some sort of discussion happens as a family before we make decisions – especially if it involves scrapping the plan and staying with strangers. But you can't ignore a sign like this one. An hour later, we were toasty by a fireplace, with Sitka sipping Gastrolite between dashes to the bathroom, and Heron happily ensconced in Lego.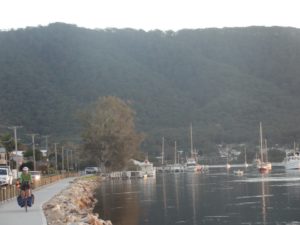 By the time Ed returned from the shower, Jocelyn and Arthur had not just changed the plan for the day, but the route for the next month. Our lovely new friends reinforced our fears with tales of minus-10 degree days and possible snow in the tablelands, and 10 percent inclines that cyclists flock to – to train for the Tour de France. So Joce looked into some signs she'd seen about a New South Wales Coastal Cycleway, and within an hour had printed off all the maps and charted our new course with Arthur. Ed was still keen for his remote mountain adventure, but beach, sun, 29-degrees, flat and daily grocery stores had him outvoted three to one. It was time for Plan B.
We may have missed out on glorious waterfalls and rainforest, frigid nights and permanent knee damage – but Plan B turned out fantastic. Within two days we were back on the coast, fully recovered as we cycled our 4000th km. We spent two days hiking through the gorgeous Crowdy Bay National Park, where a mob of kangaroos and their joeys lounged among the campers and we spotted an echidna (a mammal that lays eggs, which impressed Heron and Sitka immensely), a bandicoot and (right in the middle of the hiking trail in front of us) a red-bellied black snake: the two-metre-long most venomous snake in eastern Australia. This intimidating killer was a mere metres in front of us (note to all parents: never let your kids run ahead on a hike in Australia), not budging a bit despite our stomping and hollering. We suspected he (she?) had just eaten a full meal and wouldn't necessarily want to eat us, but knew the best bet was, to quote Michael Palin in Monty Python and the Holy Grail, "Run away! Run away!"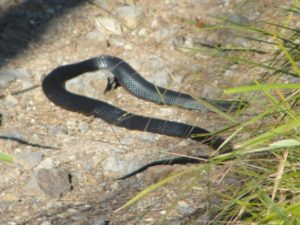 But what if we had have needed to get past? "We would've thrown a rock at it," suggested Ed, to immediate guffaws. "That's the worst thing you could do!" pronounced Heron. "Do that only if you want to DIE!," exclaimed Sitka emphatically. "You just want to throw a rock at everything," noted Joce, recalling the one time Ed threw rocks at a marauding black bear in Algonquin Park, with great success (according to Ed).
When we told the park rangers about the red-belly, we put the question to them – what if you need to get by and there's no room to walk around?
"Daddy says to throw a rock at it," taunted Heron derisively.
"Yeah, you throw a rock at it," confirmed the ranger. "Just to get it moving. They're ready to hibernate now, so they're a little lethargic."
"So I guess I was right," said Ed afterward.
"No, I still think it's a dumb idea," said everybody.
The debate continues daily.
The icing (thankfully not passionfruit icing, for Sitka's sake) on our first week of Plan B came when a woman accosted us a the library in Laurieton.
"Are those your Bike Friday tandems?" asked Sara, out of breath from chasing us down. "We have Bike Friday's too, and you must come and stay at my house tonight and tell my husband and my teenage son all about your trip!"
So we ditched our biking plans for the day and instead scrambled up a 20 percent-grade afternoon hike up North Brother mountain to catch a glimpse of the miles of coast we'd just biked, and the next day's ride too, and then spent an amazing evening with Sara, Greg, Alex and their budgie Milo, exchanging bike tour stories (we now have lots of route ideas along canals in Europe) and making fabulous new friends.
The experience reinforced a trend we've seen over the past months of active, connected families with strikingly mature teens who are comfortable in their skin and at ease with both adults and younger kids. These families cycle and travel together – many like Sara, Greg and Alex from a young age – and are noticeably close-knit, genuinely enjoying each other's company. This certainly gives us hope about the teen years ahead!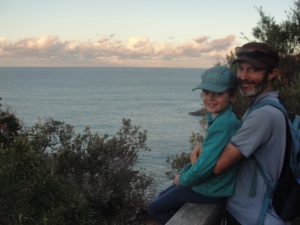 Oh yeah, and we visited a koala hospital in Port Macquarie that rescues and rehabilitates the cuddly little creatures (though we were advised that one should never try to actually cuddle one, lest you get shredded like Sitka's bike pants with those huge claws) whose habitat is increasingly threatened by sprawl, dogs and cars. They're resilient, though, losing eyes and legs and still munching merrily away on their eucalyptus leaves and (the boys want to be sure this is mentioned) pooing up to 200 times a day.
When seeing koalas is the last-minute mention, you know you've had a great week. Hurrah for Plan B!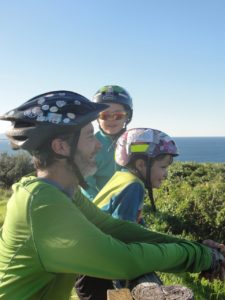 Heron's week 16 summary: I love our new plan – it is warm and we get to see surfers every day and the wildlife is awesome. The snake was scary but the joeys in the pouch were so cute and camels were even bigger than I imagined. It was awesome having campfires in Crowdy Bay.
Sitka's week 16 summary: The hiking has been so much fun and the views are really beautiful. I didn't really like my barf day but I did like staying at Arthur's house. Koalas are so cute – as cute as sheep.