"Sweet as": New Zealand Week 12
Dunedin to Bluff (!), 362 km (total cycled to date: 3,385 km)
There's no worse sense of meteorological dread than spotting a raincloud teem down a kilometre away, and watching it creep steadily in your direction. You feel soaked already as the hazy grey sheet of water unloads on its target, revving its drenching engine for your noggin.
That happened to us three times within one afternoon hour this week. And incredibly each time, as our shoulders began to shrug in anticipation of the soggy onslaught, the flat, straight country road veered sharply away and into friendlier skies. It was like a scene out of The Truman Show.
It was that kind of week – our last seven days cycling from Cape to Bluff (north tip to south tip) in the land of the Kiwis. This magnificent country of volcanoes, caves and glaciers had a pile more wonders to show off: penguins, dolphins, New Zealand's own Niagara Falls, and even another little boy named Sitka.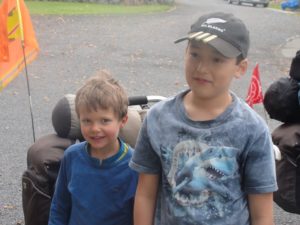 Last things first: most everyone outside the Pacific Northwest of North America has never heard of a Sitka spruce tree, and thus is unsure why we chose such an unusual name for our youngest son. But when we shared our kids' names with the Japanese manager of a campground in Balclutha, her eyes shot wide open. "Sitka! Like the tree! That's my son's name too!" They may well be the only two of their kind on the planet, and our Sitka beamed for days about it.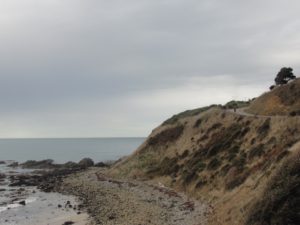 From Balclutha we embarked on a magnificent week-long ride through the Catlins, the ridge-riddled coast of the Southern Ocean. Still spoiled by last week's rail trail, we sputtered up the steep inclines, insisting that our bikes are malfunctioning ("Something is definitely rubbing!" is Ed's favourite refrain, with an impressive array of expletive adverbs he rotates through each time) until we turn around and see the nasty slope we've just conquered. Then we whisk down the other side and all is sunshine and rainbows again. Until the next climb.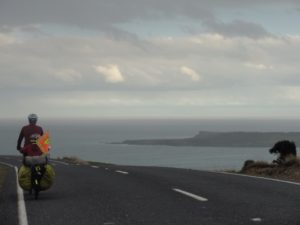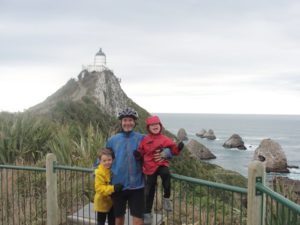 Our first Catlins stop was Kaka Point, where we set up camp early and glided bags-free on our bikes to Nugget Point – home to some stunning rocky islands jutting out in a bundle just off a massive bluff. On our way, we met with another happy coincidence when we were accosted by a family in a car, who had hosted us a month earlier at their farmstay where Sitka rode a horse and pet a sheep. There may only be only 4 million people in New Zealand, but surely that's a small-world moment (we later met a Dutch girl who had camped next to us just south of Auckland two months ago, who was stunned that we'd actually biked the whole way south).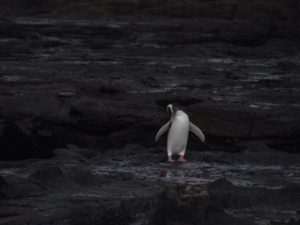 Nearby, we came across a public penguin hide at Roaring Bay (less camouflaged than the one at the reserve in Dunedin, but still effective), and stood patiently for 90 minutes to see four yellow-eyed penguins emerge from the sea at various times, shake themselves dry and waddle to their nests on the hillside. Jocelyn could have camped out there all day, but it was Ed's growling stomach that finally dragged us back to our actual camp for supper.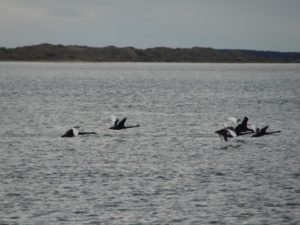 When things are going your way, you keep pressing your luck until they stop. So it was that we pedalled past beautiful black swans and a 'Bridge Closed: No through traffic including bicycles' sign in Papatowai, hoping as the sun set on a long bike day that we could finagle a way across and avoid a gravelly 16-km detour. A few among the many locals who warned us of the prolonged construction project hinted that we might negotiate our way over if the workers were willing. The first hard-hatted man insisted no. "There's actually no bridge there," he apologized. So we stood there, hemming and hawing and hoping he'd come to a solution for us (as is Joce's usual, usually successful strategy), when a second worker waved us through. "We just put some plywood down for the next phase," he explained. "Don't tell anyone we let yous through, because it won't be there long." For the 432nd time in our lives together, Ed shook his head in disbelief and Joce grinned like she'd planned it like that all along.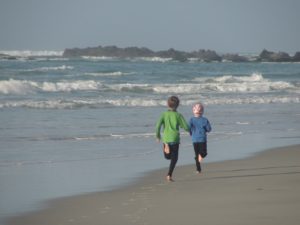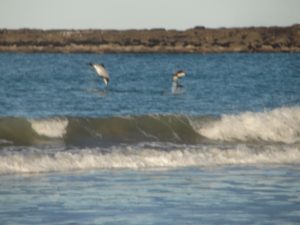 So then why not carry on to postcard-worthy Curio Bay, where we heard that dolphins come close to shore on rare occasion, right next to a simple campground amongst the flax plants. We arrived just before sunset (happily now at about 5pm, so the boys don't have to stay up late to catch all the dusk-time animal viewing) and saw nothing for a half-hour. Then Sitka and Heron started dancing and singing for the dolphins to come out and play. "That's cute," thought Ed, not believing two bouncing boys could summon wild sea mammals with song – until a dozen or more Hector's dolphins popped out of nowhere, not 15 metres off the beach, and began surfing the waves as they crashed on the shore. They put on an hour-long show better than any aquarium stage, leaping and spinning about, as Heron and Sitka put on a show for them too, screeching and leaping in the air every time the dolphins surfaced.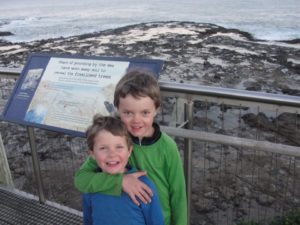 We could only have been closer if we'd jumped in and swam with the magnificent mammals, but we grew up with the Canadian ethic to not disturb wildlife – also a well-signed tenet of nature conservation in New Zealand. So late that evening, when Joce and the boys explored a 170-million-year-old petrified forest on an adjacent beach, they leapt into action to pry some over-aggressive tourists away from penguins trying to come ashore. With cameras clacking away, these folks were stalking the poor birds like paparazzi on a Greek island, so the boys pushed Joce to pull them back. Moments later, some local residents effusively thanked her for sticking up for the penguins like a true Kiwi. After three months, we've earned our stripes, or flippers, as it may be.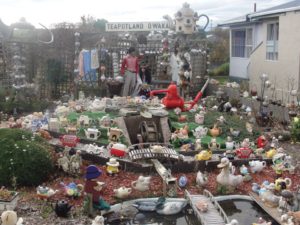 Indeed, we've come to appreciate the quirky parts of this place. We stopped off at Teapot Land – a funky display of hundreds of teapots on a front lawn in Owaka – and even played along while visiting Niagara Falls, NZ, which was playfully named by a surveyor who found a tiny set of rapids along a creek. We dined at the Niagara Falls café and took a dozen photos of the six-inch drop – unofficially named the smallest waterfall in the world.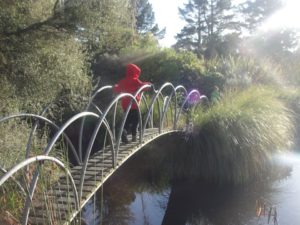 Finally, on our last night before reaching our long-sought destination, we stayed at Lignate Pit, a disused mine that's been transformed into a beautiful botanical garden. As the rain we'd long avoided threatened to catch us, the owners thoughtfully offered us their covered garden to camp in. It's typically used for wedding receptions, so here we were with our tent pitched on the concrete floor, coloured lights glowing from the ceiling, and the radio turned up for a celebratory dance party among the cherub statues and ferns.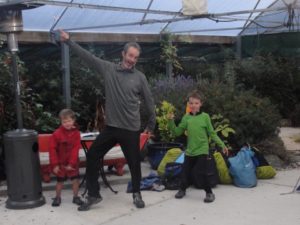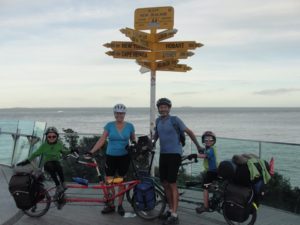 The next day, the sun shone as we cycled our last leg to Bluff – the southern tip of Te Aotearoa and our destination after 82 days and 3,385 km. We partied like we'd just won the Stanley Cup at the yellow signpost of Stirling Point, with chocolate macaroons.
Next week we will head even farther south to Stewart Island for a bike-free, tent-free, oatmeal-free few days of hiking and reflecting. It will surely feel like we've just flown through a whirlwind of cycling,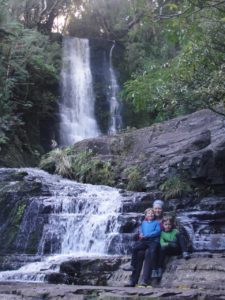 extraordinary hospitality and stunning scenery. We've just cycled the length of New Zealand as a team, and words right now can't describe the feeling of accomplishment and gratitude for its impact on each of us and as a family. We feel at home here (before our mothers blow a gasket, that's a figurative feeling – we're coming back to Canada… eventually), and we'll miss the comfort, the people, and of course, the sheep.
Next stop, later next week, is Sydney for two months cycling northward along Australia's east coast. No more barefoot wandering wherever we want – thankfully they drive on the wrong side of the road there, too, so we'll be just fine.
Heron's week 12 summary: "This week had really awesome wildlife and camping! NZ complete! We are at the destination!"
Sitka's week 12 summary:"We made it to Invercargill and Bluff! The dolphins were really beautiful and I loved lignite pit!"