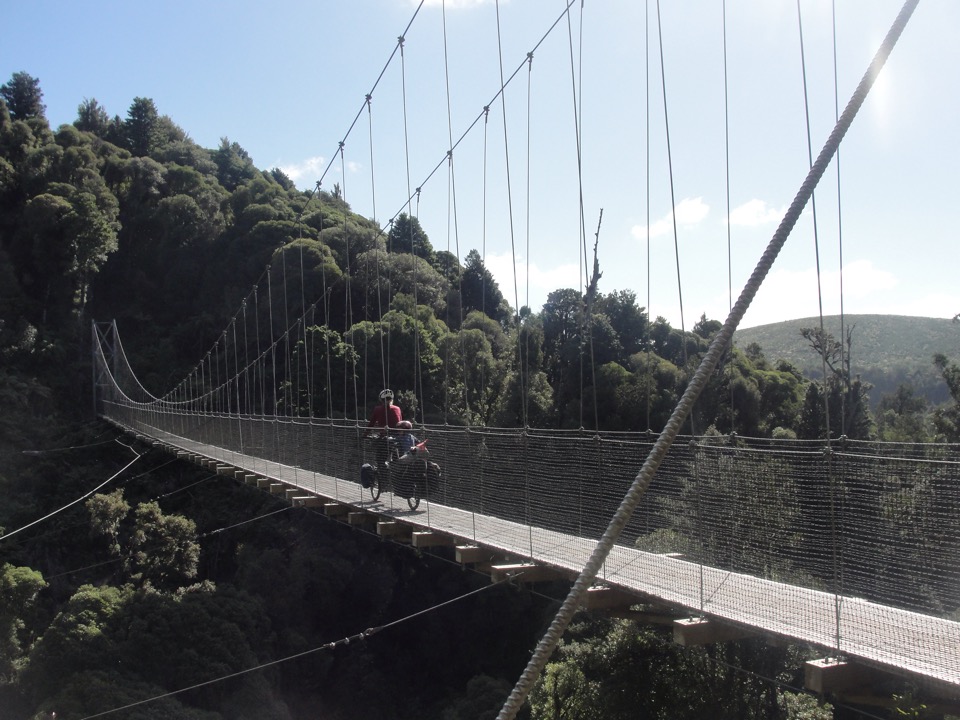 Rolling like the hills: The ups and downs of New Zealand Week Four
Waikaretu to Piripiri Flats, 278km (total cycled so far: 980 km)
"Daddy! I just stepped in one of these!"
After a rough night of wild camping and some upset tummies, we had almost completed a redeeming trio of spectacular hikes to a waterfall, an underground cave and a massive rock arch, when Sitka discovered the goopy insides of a seemingly dry, car-tire-sized cow pie.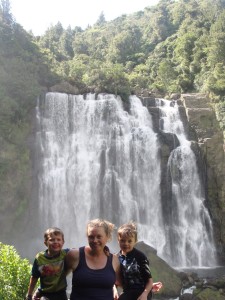 "A cow poos that much, really? Wow!"
We scrubbed his sandal and leg clean in the picturesque stream that had carved out a stunning gorge over thousands of years. And a few minutes later we were washing his puke off the boardwalk.
This week was a whole bike trip worth of highlight-reel adventures, miserable illness, perfect peace, and broken-down gadgets. Some of our ups were found way down, and most of our downs cracked us up.
We began with a very worthy detour to Nikau Caves. You won't find this off-track gem in the glossy tourist brochures, since it's dwarfed by the resort village around the nearby Waitomo Caves. But we got a private, two-hour tour guided by the landowner, who knew every stalactite and answer to the boys' questions, leading us on a gritty trek crawling through tiny fissures and wading knee-deep in huge domes illuminated by thousands of glow worms. He's resisted the big tour companies' entreaties to install lighting and platforms, preferring to maintain the natural state he found it in 20 years ago – like Niagara Falls pre-casinos. The rush fuelled us for the whole 18 km of gravel back to the main road, and on to our next stop at Waingaro Hot Springs, where we frolicked in the warm sulphur pools and Ed returned after nightfall to float under the stars in total calm.

The next day we rode into Raglan, a surfer's playground with a funky beach scene, super-cool wooden obstacle course and foot bridge from which local daredevils (and Ed) took turns leaping 20 feet into the salty sea below. Our fantastic Warmshowers hosts, Michael and Joanna, just a week away from their wedding (Michael was away on his stag weekend), put us up in their sweet garage loft next to their idyllic home overlooking the sea.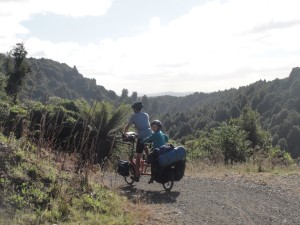 That's when luck decided we'd had our fun, and fritzed out both our odometer and bike radio – two key contributors to our mental endurance on the bikes. Mercifully, the owner of the local bike shop, The Cyclery, agreed to come in for ten minutes on his day off to sell us a new odo. And Joce concocted a makeshift solution that revived our radio, so we were off for an energy-zapping 55km stretch of slippery gravel roads, and a "kids and trucks" fest with the same three transport cabs blasting past us back and forth for an hour, horns blasting full tilt as both truckers and their young passengers thought we were enjoying the close passing and racket much more than we really were. But we ended the day at a perfect, simple campground with plenty of space for frisbee.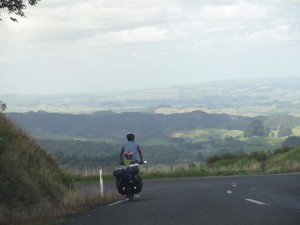 The next day, we had a marvellous ride through rolling pastures with hours of cycling dance parties and new records of counted sheep (1139) and cows (1190) (Sitka in particular has been obsessed with sheep since staying with the family of a world-champion sheep shearer); but our experiment with wild camping left us slogging through tall grass and pitching our tent amongst the cow patties.
The boys, however, take the downs in full stride. They thought it was hilarious when our finicky new camp stove caught fire and almost exploded, and after taking turns with a cruel 24-hour barf bug, they made up a song about returning from "Poonamia."
They were rewarded with some great luck, as a wonderful tourism worker found us a shuttle aboard the Blue Tui, skipping past a notoriously frantic stretch of highway to the start of our next adventure.
We've now left behind the beaches, hot springs and caves, for mountain biking on volcanoes. Our first day on the Timber Trail, on narrow single track through native forest, ferns and birdsongs, was possibly the funnest ride we've ever done.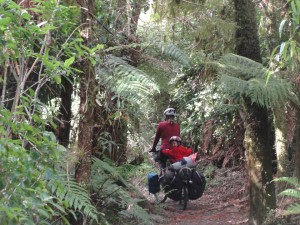 We wound up to almost 1000 metres elevation all morning, with our now-healthy sons powering us through dips and steep inclines. All afternoon we bounded back downhill and over 200-metre-long suspension bridges that swayed beneath our tires. We arrived late to camp exhilarated, exhausted and wholly ready for whatever the next week throws our way.
Heron's week four summary: "Week four was adventure week! Caves, hot springs and mountain biking!"
Sitka's week four summary: "Timber trail is the best! We are mountain bikers now! "