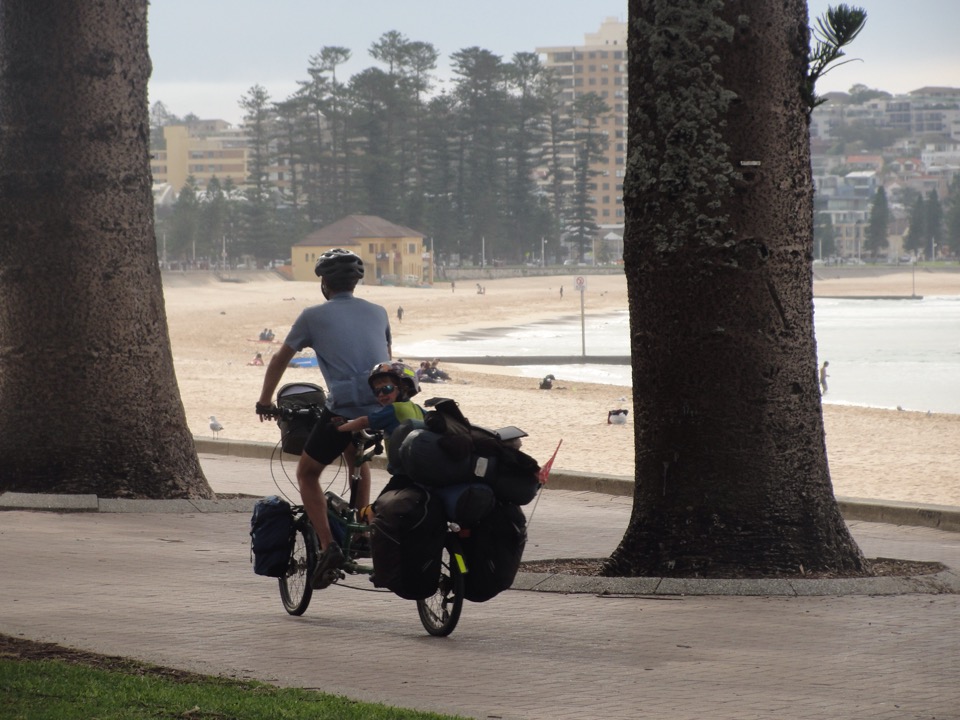 Glamping our way through Australia: Oceania Odyssey, Week 14
Katoomba to Wamberal, 171km (total cycled so far: 3,606 km)
"Um, Daddy," whispered Sitka, who had just stepped outside to take his morning 'bush wee.' "There's a kangaroo outside our tent."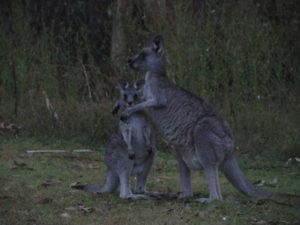 Actually, there were seven – each Sitka's height or taller – grazing calmly not five metres away. Occasionally they sat upright and stared back at us, as if to say, "Whatchu lookin' at, mate? Ain't never seen a kangaroo before?" The boys, of course, giggled with delight for a half-hour straight as they tracked the iconic Aussie marsupials nibbling and hopping about, exactly as we'd pictured them but couldn't quite believe we were actually seeing next to our fire pit.
It was just our second camping day in Australia, and already we'd been spoiled by exotic (by Canadian standards) animal spottings, brilliant warm sunshine and majestic landscapes. This week we took a few days off for more hiking in the Blue Mountains and to soak in the sights of Sydney, visited with a wonderful old friend and her super-cool family, and camped on an island in the middle of the city that used to be a prison and shipyard, but now houses a biennial modern art festival. This week, we've felt like we're glamping ("glamour camping") without the painful price tag.
Sure, we've been rudely awakened every pre-dawn by a cacophony of cockatoos, kookaburras, bellbirds and magpies. But we need the extra daylight hours as the sun sets closer to 5pm every day – we have yet to arrive and pitch our tent before nightfall.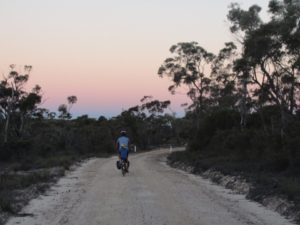 On our first camping night, after a much-anticipated reunion and hike to Wentworth Falls with Jasmine (who Jocelyn biked across Canada with Otesha in 2003 and hasn't seen since), we found our tent fully set up, a campfire raging, and a delicious dinner all ready. We'd chosen the adventurous route that afternoon, along a remote fire track for a beautiful sunset ride that turned into a pitch-black slog through a sandy trail in the woods, with headlamps on our helmets as our guides. Fortunately, Jazz and her kids had driven ahead, and just as our merry dispositions were faltering, her headbeams pierced the darkness. She scooped up the boys and shuttled them ahead, and Ed and Joce enjoyed a moonlight date ride into camp, where our glamping experience awaited.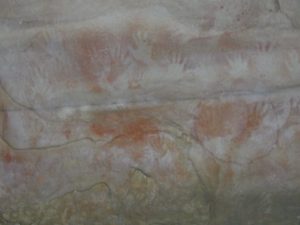 The next day, we were treated to a complete Australia briefing from Jazz and co, including which animals to watch for (spiders and snakes) and which to stop having nightmares about (crocodiles and sharks). Then Jazz's partner Nick, an expert in aboriginal history and culture, led us on a hike to Red Hands Cave where 16,000-year-old ochre paintings told of Oz before Captain Cook. And Asherah and Arlo introduced the boys to Aussie football and cricket.
We took a train into Sydney and got lost, literally, in the massive (not especially bike-friendly) city – but still managed to watch surfers rock the waves at famous Bondi Beach, and bike by the iconic Sydney Opera House, before catching a ferry to Cockatoo Island in the middle of the extraordinary Sydney Harbour. Again, it was well after dark, but a friendly security guard ushered us to our tent site right next to a fully-equipped outdoor kitchen, with a splendid view of the nighttime cityscape. And he even lit a campfire for us in the communal pit.

When we awoke, we found ourselves in a historical wonderland, with a day-long kids' scavenger hunt around the convict quarters, dry docks where Aussie warships were built last century, and a surreal modern art show inside the abandoned industrial warehouses (the boys' favourite was darting through a maze of pendulums dangling from the cavernous ceiling – like the other exhibits, we had no earthly clue what it was intended to mean).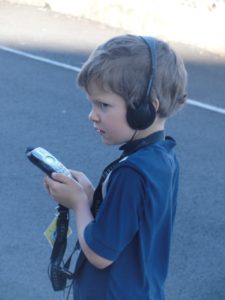 The boys love history, and soon asked to take over the audio tour of Cockatoo so they wouldn't miss anything. They took turns listening to the descriptions of each site, then relayed them to the rest of us. "This dock was the deepest in the world when it was built," went one of Heron's summaries. "It's forty feet wide and eighty feet deep, and it was designed by a guy who was 23 years old."
"Something about money," went Sitka's. "Money, money, money. Somebody stole some money. It was interesting but I forget it all."
The Aussie are (almost) universally pumped about our trip, and there are days where it is hard to cycle even one km without being stopped for a photo or a shout of "Awesome!!" as we cycle past. At this rate we will have to adjust our daily distances, but the boys love feeling like famous superstars as they cycle along. We are also loving the hot sunny days (and not-frosty nights), with ample excuses now to eat more ice cream and jump in the ocean whenever we can.
It hasn't been all sunshine and marsupials. On our train ride to Sydney, we learned that a tourist fell off a cliff along one of the hikes we'd done that weekend in the Blue Mountains. She had climbed over a guardrail and slipped while posing for a photo. We were in a daze for a couple of days reflecting on how quickly fortune can change, and how important it is to be mindful and cautious when traveling through such beautiful and powerful places.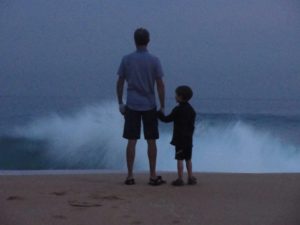 We finally got our bike legs back and have started our two-month ride up to Brisbane. These last few days have brought us a string of fancy holiday parks up the beach-lined coast, with more surfing to watch (now the boys both want to be surfers), glorious bike paths, a barge ride that dropped us and our bikes right at the beach, and fascinating new wildlife – like the incredible pelicans who sit among the seagulls all along the waterfront. It seems that glamping is common here – on Cockatoo Island, you can rent a pre-erected tent with mattresses and bedding (for $360 a night).
For now, we're content to set up our own accommodation. But we'll gladly take the rest of Australia's more affordable spoils.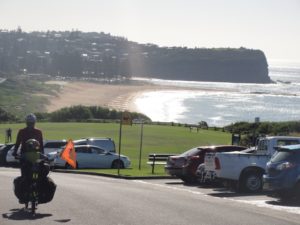 Heron's week 14 summary: "It was cool seeing the old jail and the kangaroos were awesome! And I really liked hiking with Ash and Arlo!"
Sitka's week 14 summary: "We. have taken 14 ferries now! The surfers at Bondi Beach we're so cool! Pelicans look like robots. Biking in the dark on the fire trail was fun!"